Utah Phillips "Love in Action" award
Presented at the 2009 Night of Giving Event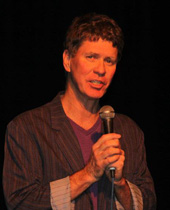 Mikail Graham
It was Mikail Graham who inspired the Utah Phillips Love in Action Award. A good friend of Utah's, Mikail has shared his prodigious talents tirelessly for the past six years to produce the Night of Giving, an annual concert that gathers our community together for a holiday celebration that benefits Hospitality House.
---
Presented at the 2010 Bella Nota Event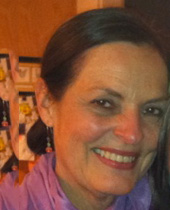 Julie Holmes
Julie Holmes was acknowledged in 2010 for her generosity and commitment in benefiting Hospitality House at the annual Indian Springs Winery's Bella Nota. Julie has worked with remarkable skill and dedication to create a beautiful evening that has been one of Hospitality House's most important fundraising events for five years.
---
Presented at the 2010 Night of Giving Event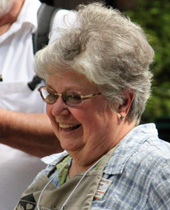 Mary Liebke
Mary Liebke is in charge of all the food served at the Welcome Center at Hospitality House, a monumental task she has expertly accomplished since we opened in 2005, and one she shares with a remarkable team she leads called the Lunch Bunch. Her commitment is quiet and constant, and she is one of those at the very heart of the work at Hospitality House.
---
Presented at the 2011 Night of Giving Event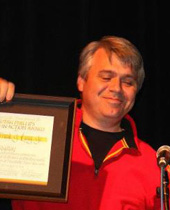 Dr. Frank J. Lang, Jr.
Since 2005, JR Lang has spent his Monday evenings at Hospitality House, treating and making referrals for our sick guests. Over time he has gathered a whole team of doctors, physician's assistants, and nurses to work with him, and he is currently creating a program that will outreach to homeless people in the community who don't come to Hospitality House.
---
Presented at the 2012 Night of Giving Event
Fred Skeen, RN
Fred Skeen has been the on-site nurse at Hospitality House since we opened in 2005, coming in at least once a week to offer medical care, including testing for tuberculosis, administering flu shots, and helping people as medical problems and conditions arise. Fred has also coordinated Sierra Pines United Methodist Church's participation in our overnight program at least once a week for seven years, during which time he's gathered hundreds of volunteers of all ages to help him make and serve extraordinary dinners. Having recently retired from a long nursing career, he has now joined the staff at Hospitality House.
---