Night of Giving
Generously hosted by Mikail Graham every year
Countdown to Night of Giving 2020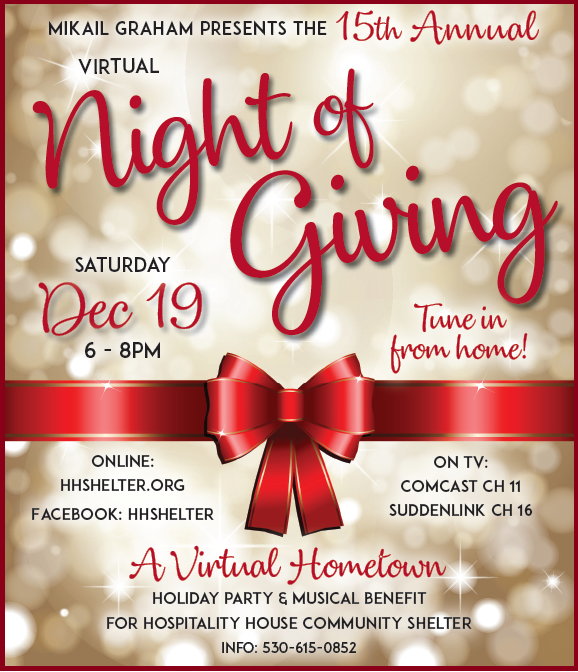 The 15th annual Night of Giving is transitioning into
a virtual platform

this year. Tune in from home on Saturday, December 19, 2020 from 6 p.m. to 8 p.m. at hhshelter.org, Facebook.com/hhshelter or by watching Public Access Television: Comcast

Channel

11

or Suddenlink

Channel

16.
"This event is all about togetherness," said Mikail Graham, Event Host and Founder of Night of Giving. "What started as a small evening with friends has grown into what it is today—a community-driven musical benefit for those in need. Together, we're raising awareness and support for our homeless community, and we'd love for you to join us."
We'd like to thank this year's Night of Giving sponsors: County of Nevada – Better Together, SPD Markets, BriarPatch Food Co-op, Telestream, B & C Ace Home & Garden Center, KVMR, The Union, YubaNet, Dignity Health Sierra Nevada Memorial Hospital, Clientworks, and Law Office of Minor & Keene for giving your enthusiastic support!