Give the Gift of Shelter for a Birthday!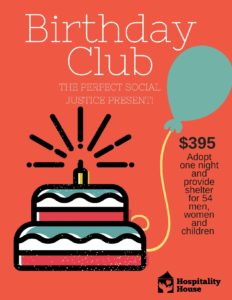 Need a lovely gift for someone who is hard to buy for? Join the Birthday Club and give the gift of shelter!
Every night of the year, up to 54 homeless people will use Hospitality House for shelter. You have the power to provide a night of safety and warmth for them.
Your gift of $395 will provide one night of a warm, safe place to sleep for up to 54 men, women, and children. This covers the most basic means to open the doors: a staff person, running water, electricity and a bed.
How do you join the Birthday Club?
Fill out the form below.
Complete the payment.
We will send you a birthday card that you can send to your special someone that explains the gift of shelter you made possible.
Adopt a Night Now!