Donate Food, Clothes, or Other Items
PLEASE NOTE: Our shelter has very little storage capacity as almost all available space is being utilized to give as many people as possible a safe place to sleep each night. This means we are only able to accept items listed on this page. Please scroll below for further clarity on the types of donations that are most helpful in providing comfort and care as well as donations that would be better suited for our partner nonprofits.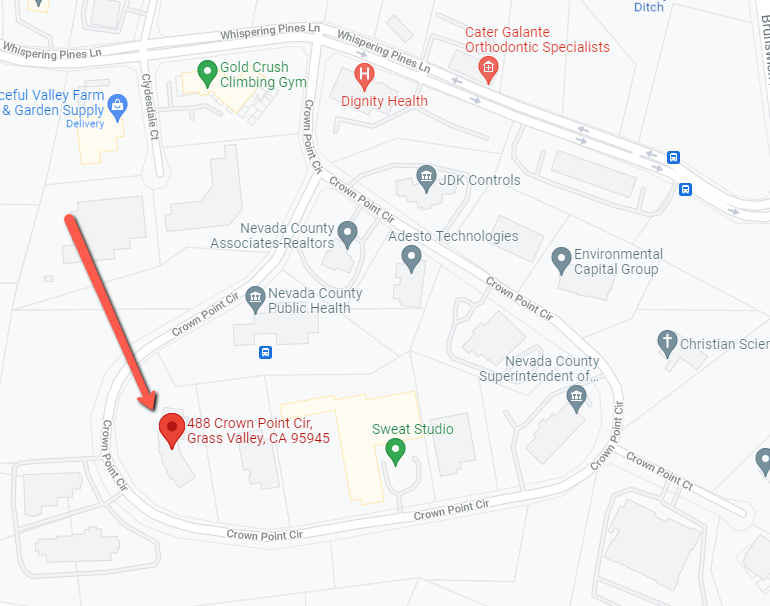 DONATION DROP OFF LOCATION: To streamline our donation processes and best protect visitors and guests alike from illness, donations are now being accepted at our admin office only. We kindly ask that no items be taken to the shelter. 
Hospitality House Admin
488 Crown Point Circle, Suite 100, Grass Valley, CA 95945
DONATION HOURS: M – F, 8 am – 5 pm (CLOSED THURSDAY, NOV. 25 AND FRIDAY, NOV. 26 FOR THANKSGIVING)
Most Urgently Needed Items at the Shelter (as of Nov. 24, 2021):
Twin-sized blankets – CRITICAL NEED
Ponchos
Sweatpants (men's and women's)
Pillows (new only)
Toilet paper
Hairbrushes
PPE masks (paper disposable or neck gators)
Ibuprofen/Tylenol
Hydrogen Peroxide
Topical tooth pain reliever
Men's and women's deodorant
Men's and women's small – xxlarge Depends
Headphones
Men's pants size 48
Women's shoes size 8 and up
Men's shoes size 9.5 and up (urgent need for size 12-14)
Women's medium to xxlarge long sleeve shirts
Leggings
Sweatshirts/Hoodies
Underwear (men's and women's, size small and medium)
Handwarmers
Gloves
Plastic utensils
Paper plates and bowls
Bottled water
Travel bags/duffle bags/backpacks
Food Types Accepted Year-Round
Because of health codes, we are unable to accept expired canned goods, opened foods, home-baked items or food items from an event that have been opened. Foods that are most helpful:
Individually packaged foods (i.e. granola bars, protein bars, chips)
Fresh veggies and fruits
Grains
Cereals
Meat and poultry
Bottled water
Coffee
Items Accepted Year-Round
New and gently used athletics shoes
All-weather jackets
Scarves (not accepted in summer months due to storage limits)
New pillows
Pillow cases
Twin-size blankets
Handwarmers
Men's and women's sweatpants, all sizes
Men's and women's t-shirts, all sizes
Bottled water
Toiletries
We are

UNABLE

to accept the following due to limited spacing and/or health codes:
Furniture of any kind (no mattresses, no dressers, no end tables, couches, tables, etc.)
Home décor and household items (no lamps, paintings, candles, statues, pictures, plants, etc.)
Pots, pans and related kitchen equipment (no mixing sets, bowls, Tupperware, BBQs, etc.)
Used pillows
Used undergarments
Queen and king-size blankets / comforters (twin-size only for all bedding)
Sleeping bags
Tents
High heels / designer shoes
Gowns and business suits
Jewelry
Expired foods
Opened foods of any kind
Leftover food from an event (if opened)
Please consider gifting your wonderful furniture to Re-Start Ministries in Auburn (530-906-9120) where all of our guests shop for free when they move into their new homes, and please consider gifting other treasures to Hospice of the Thrift, the Salvation Army or Sammie's Friends, all of whom support of efforts to help people back into housing. 
More Ways to Help:
Individual
1. Adopt a night for $395 and provide the most basic food and shelter for 69 people.
2. Buy gift cards to local fast food or coffee cards for sustenance and a place out of the rain. Drop them off to Utah's Place at 1262 Sutton Way.
3. Volunteer to further the efforts of Hospitality House. Note: all programs are temporarily suspended during the course of the pandemic.
4. Run a unique class or offering (can be a one-time offering or on-going). Call 530-615-0852 with questions or to sign up.
5. Bring a pound of ground coffee or box of protein bars. Drop them off to Utah's Place at 1262 Sutton Way.
Groups
1. Purchase and deliver a hot breakfast for 69 people (Please call ahead so we know you're coming!) or consider joining our cooking club and cook once a month with a group of friends or organization. Meals needs to be prepared in a commercial kitchen so we can comply with the Environmental Health Code. It can be purchased at a deli, restaurant or catering company (i.e. breakfast burritos from Safeway Deli)
3. Adopt a night for $395 and provide the most basic food and shelter for 69 people.
Support Us on Amazon
Shop on smile.amazon.com and select Foothill House of Hospitality as your charity of choice to automatically have a percentage of every purchase donated to our shelter.
Here you can create the content that will be used within the module.
Here you can create the content that will be used within the module.
1262 Sutton Way
Grass Valley, CA 95945
Shelter Line: (530) 271-7144