Hospitality House
Looking for a Meaningful

Volunteer Opportunity?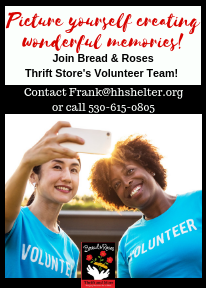 You can volunteer at Bread & Roses Thrift store! We always need help to receive, sort, hang, clean, steam, stock and sell merchandise. We are seeking volunteers to help on Mondays from Noon to 4 p.m. Please contact Frank at 530-615-0805 or Frank@hhshelter.org
Run Your Own Clothing Drive!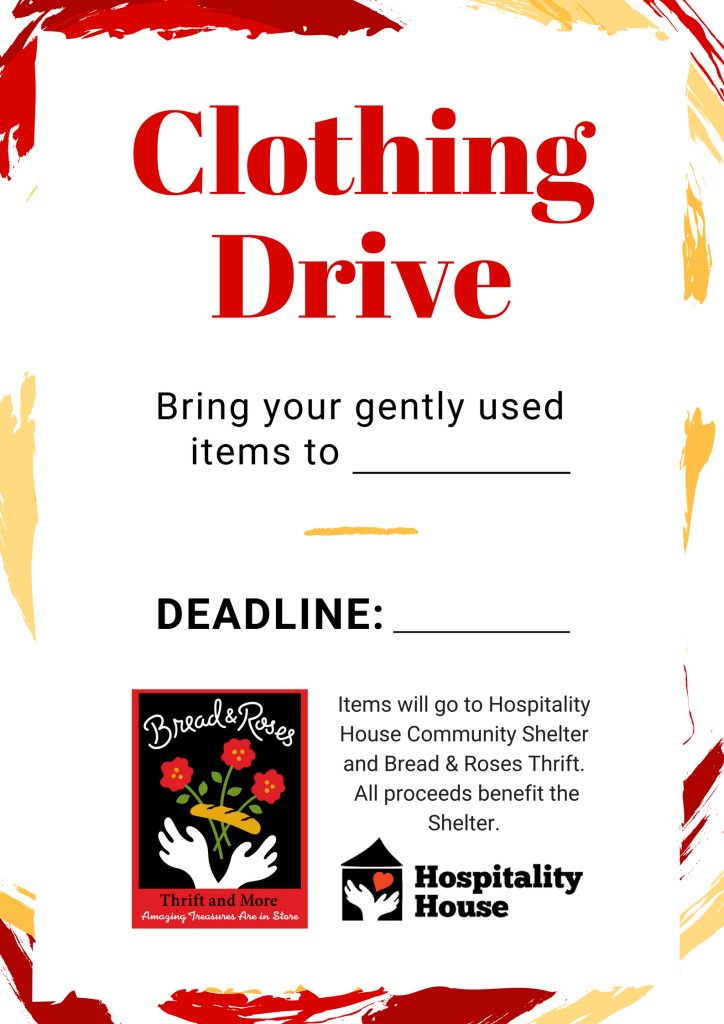 If you are involved in a group—book club, exercise class, service group—consider doing a Clothing and Housewares Drive to help support the shelter. Or if you are throwing a party, ask people to bring a bag of gently used items instead of a hostess gift. Here is how it works: Pick up a customizable "Clothing Drive" flyer at Bread & Roses Thrift or at
hhshelter.org
, invite your friends or group to bring you items by a certain date, then you drop them off at Bread & Roses Thrift. We will sort the clothing items needed at the shelter and the rest of the items will be sold to help our homeless neighbors. Download the customizable flyer here or pick one up at Bread & Roses Thrift (840 East Main St., Grass Valley.)
Click to Download Flyer
Hospitality House
Hospitality House is a community effort to help homeless Nevada County residents get back on their feet. We provide emergency shelter and a sober environment for up to 54 men, women, and children who come daily to Utah's Place, our facility located between Grass Valley and Nevada City.
Our program offers nourishing meals, medical services, a housing program, life skills and job training classes, plus outreach to homeless people in our county who do not use our overnight services.
We have been going strong since 2005, fueled by the conviction that all people, housed and unhoused, are deserving of dynamic compassion.
"Hospitality House encourages job hunting, apartment hunting, volunteerism and personal uprightness. I am a better person than when I first walked through the doors, with respect for the rent dollar and for myself. I leave knowing that I am worthy of being housed, and I am a solid, stable, admirable person who does not quit"