Become a Volunteer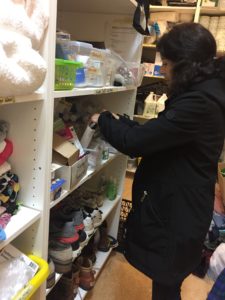 As a 501 (c) (3) non-profit, Hospitality House relies heavily on the dedicated involvement of volunteers to succeed in its mission of caring for those in our community in need. Volunteers act as liaisons between the shelter community and the public at large. Volunteers play a crucial role in delivering services to our guests.
Volunteers are needed throughout the year by Hospitality House, at Utah's Place, at the Bread & Roses Thrift, and for special events. More detailed information is available about volunteering at Utah's Place and at Bread & Roses Thrift.
To apply to become a volunteer, please complete our Online Volunteer Application.
If you have additional questions about volunteering, please contact our Volunteer Manager at 530-615-0805 or volunteer-mgr@hhshelter.org
Please note: Anyone under the age of 18 must be directly supervised by an adult volunteer, and any children who accompany adult volunteers should be at least 12 years old.
Thank you for your interest in volunteering.
A Special Thank You:
It's hard to say goodbye to Betsy and the entire Mountain Stream Meditation Center cooking team who make dinners at Hospitality House so special for guests–and have been doing so for several years! Sadly, Jan. 28, 2019 was their last night cooking in the kitchen. Thank you for the countless home-cooked meals. We are grateful to each and every one of you. You will be greatly missed!