Events & Fundraisers
LABOR DAY Monday, September 3, 3:00pm
Nevada Theatre, Nevada City, California
401 Broad St, Nevada City
$20 general admission, $30 premium reserved seating
Tickets online or at the BriarPatch Food Coop – 530-272-5333

---
John McCutcheon
John McCutcheon has emerged as one of our most respected and loved folksingers. As an instrumentalist, he is a master of a dozen different traditional instruments, most notably the rare and beautiful hammer dulcimer.
His songwriting has been hailed by critics and singers around the globe. His thirty recordings have garnered every imaginable honor including seven Grammy nominations. He has produced over twenty albums of other artists, from traditional fiddlers to contemporary singer-songwriters to educational and documentary works. His books and instructional materials have introduced budding players to the joys of their own musicality. And his commitment to grassroots political organizations has put him on the front lines of many of the issues important to communities and workers.
---
Rebel Voices
For over thirty years, Susan Lewis and Janet Stecher have created incredible harmony as members of The Belles of Hoboken, Shays' Rebellion, and since 1989, Rebel Voices. They took their name from the book by Joyce Kornbluh, Rebel Voices: An IWW Anthology, a collection of writings, songs, poems, and cartoons by members of the Industrial Workers of the World. "Wobblies" have always been rabble rousers, unionists, artists, and singers who attack the issues of their time with passion and humor. This same spirit moves Rebel Voices today as they sing out for social and economic justice.
Rebel Voices concerts and workshops present the struggles and triumphs of real people – – workers from many lands and many times. Included too, are the voices of today's rebels: union activists, gays and lesbians, pro-choice advocates, environmental activists, persons with disabilities and those who are usually powerless and therefore too frequently voiceless: children, immigrants, political prisoners. With an integrated vision of theater, harmony and politics, Janet Stecher and Susan Lewis fill the stage with rare power and compassion
---
Mark Ross
Mark Ross left at home at 17 because of illness (his parents were sick of him). Armed with a loud voice and a guitar, 35 years ago he made his way to Greenwich Village just in time to catch the last of the Great Folk Music Scare of the '60's. Yodeling, singing, cracking bad jokes, making execrable puns, and picking up a storm, he's been making his way at this trade ever since.
Although considered the consummate Tramp by his
Brethren of the Road, at times he has turned his hand to such odd jobs (and there are those that say that any job he takes is, by definition, odd) as: logger, farmhand, stagehand, actor, radio & concert producer, short-order cook, substitute teacher in a Catholic High School, director of an after-school program for disadvantaged kids, IWW organizer (3 years in running the IWW office in Missoula, Montana), day laborer, dishwasher, babysitter, and Folksinger-in-Residence at New York Folklore Center.
Resident for the last 23 years in Montana, before making his way to Eugene, Oregon, he has lived in Butte, Montana for the last 12 years. Before that he spent eleven years in Missoula, five of them doing a live Saturday night radio show for Montana Public Radio. From '97 through 2000 he was the Artistic Director and Producer of the Butte FolkFest.
---
Paul Kamm & Eleanore MacDonald
Modern folk musicians Paul Kamm and Eleanore MacDonald, from Nevada City, CA., have been writing and performing original, contemporary folk music for 33 years. A blend of contemporary and traditional styles, their music is graced by exquisite harmony, compelling songwriting, deceptively simple arrangements and intricate guitar work… all embraced by great heart.
They've been applauded throughout the US as well as overseas for the lyrical content of their songs and vocal blend…a haunting style which weaves unique harmonies into a rich tapestry of guitar work and storytelling.
They are Kerrville, Telluride and Rocky Mountain New Folk award winners, to name just a few, but the real nature of their musical voice doesn't come into focus as easily as reciting a list of these coveted prizes.
The quiet way they live and work flows through their music like water, and washes over you as surely as the notes do. You get the impression that working for issues like peace and justice shouldn't keep us from dropping everything to help a stray animal in need, and that ambition is nothing without love, because one thing follows another, one hand connected to the other.
"Paul and Eleanore draw deeply from both the traditional and the modern folk idioms. Their songs pay homage to American styles from folk balladry to Gospel, as well as Latin and African rhythms…" – Sing Out!
---
Dakota Sid Clifford
Dakota Sid Clifford grew up in North Dakota, Washington, and California, but left home for political and religious reasons at the age of 18, and wound up in Haight Ashbury in the mid sixty's. He started writing songs in high school on an old Gibson J50 so when he found himself "smack dab in the middle of what seemed like the biggest cultural revolution the world had ever seen", he hit the ground running writing songs chronicling his experience of the changing human condition.
In 1972, he and his wife settled in western Nevada County near Grass Valley, California. Here on "Chaos Campground", Sid built his house and raised his family, all the time writing songs, making records and traveling. Sid played the clubs and coffeehouses, colleges, campfires and kitchens and performed in every state of the union, except Alaska, always searching for the sweet spot in his songwriting vocation where talent and passion for the craft might meet commercial success.
Sid presents songs filled with historical accuracy, weaving together the reality of the human condition and the playful whimsy of the poet's heart. The phrasing is simple and sparse, his socially conscious similes sparkle with imagery evoking crystalline images of American life.
"One of the best songwriters I've known. A quiet, intellectual, rowdy!" – U. Utah Phillips
---
Brendan Phillips
Brendan Phillips, son of Utah Phillips, wears his influences on his sleeve. For the better part of a decade, Brendan has been traveling and touring with a rotating and eclectic cast of musicians, he dubbed Fast Rattler.
Drawing from his pops catalogue (including songs Utah never recorded or performed) and the universe of american folk music that he grew up listening to around campfires and at festivals all over the US and Canada, Brendan Phillips and Fast Rattler represents a collaboration of kindred spirits, inspired by all things Utah.
Encompassing a wide range of musical influences; from Americana and Bluegrass to gypsy-jammin' wood-punk, Phillips and Fast Rattler pay homage to the songs of Utah while also adding their own spin, reimagining Utah's songs in a string band format.
www.facebook.com/pg/Fast-Rattler
---
Bodie Wagner
Bodie was born and raised a Quaker in Yellow Springs, Ohio. Growing up he listened to a lot of Woody Guthrie, Leadbelly, and calypso. By age twelve he was playing harmonica and tambourine and singing in rock and roll bands. He soon picked up the guitar and started writing songs.
He served two years as a conscientious objector, driving truck for Goodwill Industries of Indiana. It was during those years that he focused on songwriting, he says to "keep me from going nuts."
When he finished his service he hit the road spreading his music across the United States. He says, "I've worked in factories, washed dishes and bent wrenches, I've never done a job as hard as the one I do now. But I think I'll be doin' it fer a long time, because I love my work."
www.facebook.com/bodie.wagner.7
---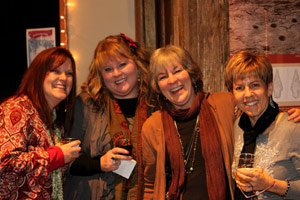 Hospitality House is fortunate to be a part of so many events supported by this community!
Many thanks to the musicians who donate their time and talents to add top notch entertainment to our events. A big thanks to all of the local potters who make beautiful bowls for our annual Empty Bowl event. And, finally a huge thanks to all of our community members. We couldn't do it without the generous support from all of you.
Every year Hospitality House hosts A Night of Giving, The Long Walk and the Empty Bowl along with many other events.

A Night of Giving
A Night Of Giving is coordinated and produced by Mikail Graham at the Miner's Foundry in Nevada City. The night brings together many concerned musicians, poets, and storytellers for a night of back to back entertainment. The annual event has become a much anticipated hometown Christmas party. Learn More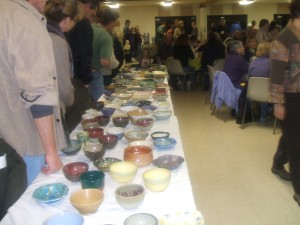 Empty Bowl
Enjoy a simple meal of soup and bread, fun and conversation. Take home a lovely handmade bowl crafted by a local potter as a reminder of all the empty bowls in the world. There are no empty bowls at Hospitality House, and for that we thank the dozens of volunteers who provide tasty meals to our guests everyday! Learn More