Volunteer Spotlight
Every month Hospitality House staff honors an outstanding volunteer for their leadership and dedication to our cause.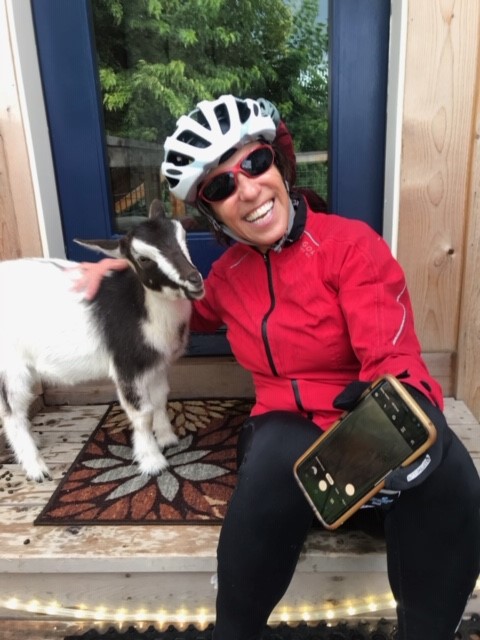 October Volunteer Spotlight: Teri Gevry
Over the last six and half years, Hospitality House has had the honor and privilege of having Teri on our volunteer team as a dedicated and passionate advocate. She first came on board as what we now call a Guest Advocate, working in our shelter. She currently serves as an Outreach Advocate, supporting women in our post-housing program.
Teri's story with Hospitality House began when she first heard a plug for a play at KVMR which many of us have come to know and love, called "A Place to Call Home." That evening, Teri went to the show at the Center for the Arts and had a conversation with a former Utah's Place guest, which changed the course of her life forever. As he shared the story of his journey, she began to appreciate the issues surrounding our homeless neighbors and embarked on her own journey to understand and address homelessness in our community.
Since that day, Teri has worked tirelessly to help Hospitality House further its mission of helping support members of our homeless community as they transition from homelessness to housing. Like so many of our volunteers, Teri dedicates her time to Hospitality House because she loves working with our guests.
"I get to help them on their journey, on their path," said Teri. "I love the fact that they have embraced me as I help them see a new vision."
Teri, your dedication to our guests is greatly and forever appreciated. Your strength and endurance as you help meet the needs of some of the most vulnerable members of our community is only matched by your passion and kindness. Thank you for all that you do!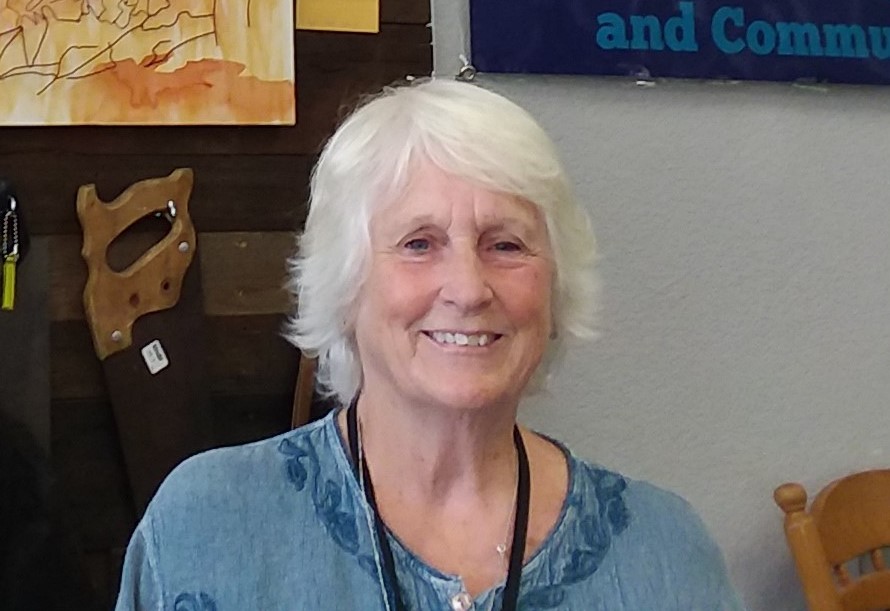 September Volunteer Spotlight: LuAnne Myers
Anyone who has had the honor of meeting LuAnne, knows just how dedicated she is to Hospitality House and our mission. LuAnne started volunteering with us at Bread & Roses almost two years ago, following a long career as a school counselor.
Her years of working with students from a wide range of backgrounds has given her a unique and beautiful perspective on the world which she carries with her every day. All it takes is a single conversation with LuAnne to see just how much she cares about helping our guests, fellow volunteers, and greater community.
As she puts it, "I am here because I have been very lucky to have people in my life who have helped me, and now I can help others who need a hand up."
We are very fortunate to have LuAnne on our team and appreciate all that she has done to help further our mission of assisting those who are experiencing homelessness in Nevada County as they transition to housing. With a great deal of gratitude, we thank you, LuAnne, for your dedication and hard work.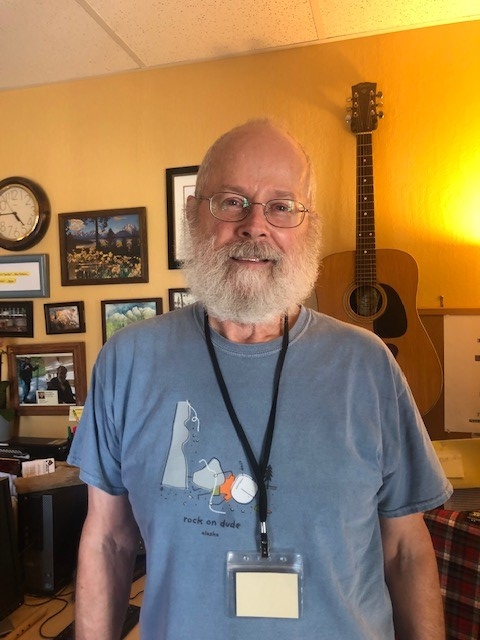 August Volunteer Spotlight: George Dunstan
George began volunteering at Hospitality House in 2005 when it was a nomadic shelter. He vividly remembers when guests and volunteers used to meet at the Welcome Center, and a bus would pick them up and take them to a designated church for the night. George has volunteered every week nonstop for 14 years as a shelter advocate (formally monitor). He helps with guests' immediate needs, such as providing clothes and toiletries, dedicates time to talk to guests, and has helped with the installing of beds for the Onward Dorm and in many other countless areas.
"I wanted to be part of this community," explained George. "I like having person to person contact and interacting with people. It makes it more meaningful and having direct contact with people is fulfilling. It's what I do on Thursdays and I have built friendships with staff and other volunteers. Volunteering for Hospitality House has become part of my life. It keeps me going and I look forward to it every week."
His dedication to our guests and Hospitality House's mission to bring homeless people in Nevada County into a circle of community caring that offers shelter, sustenance, and care as we assist them in transitioning from homelessness to housing is such a blessing. Thank you, George!
People volunteer with Hospitality House in a variety of ways, and we're always looking for new volunteers who can help further our mission and services. If anyone has an interest in learning more about volunteer opportunities, we welcome you to contact Leah Farkas, our new Volunteer Manager at 530-615-0805 or get started now>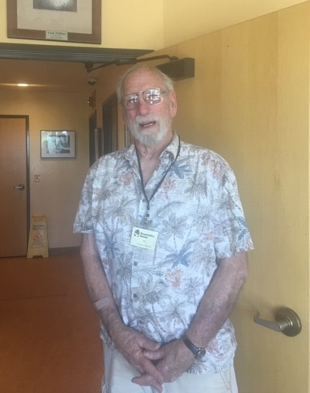 July Volunteer Spotlight: Bill Blount
We are so grateful to Bill; he has volunteered as a shelter advocate (aka monitor) since the beginning of our shelter. He has tirelessly shown his commitment in helping our homeless neighbors by volunteering every Thursday for four hours and supporting our shelter advocates in the Onward Dorm.
"He is always there for us, and I never have to worry if he is going to show up or not," said Janella Kirkman, Shelter Supervisor.
Bill makes sure that guests have towels, toiletries, blankets, or anything that is needed to accommodate our guests that night. Bill also has conversations with our guests, creating strong bonds and trust between them.
"He is here for the cause, and that is why he has been with us for so long, because he truly cares. He is also here to help others, not only the guests but our staff who deeply appreciate his ongoing support," said Kirkman.
Thank you, Bill, for helping everyone you meet, and for your faithful commitment through the years. We are blessed to have you as our super star volunteer!
If you'd like to join our shelter volunteer team, we're always looking for wonderful people to join our crew. Get started>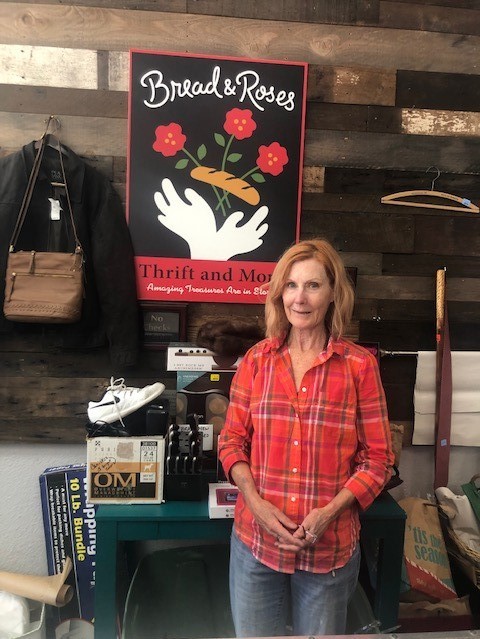 June Volunteer Spotlight: Karen Steffa
Karen Steffa joined the Bread & Roses Thrift and More team six months ago, and she's been an asset ever since.
"Karen has been absolutely amazing!" explained Store Manager, Miranda Stuart. "She always has a smile on her face and is so unbelievably humble."
Karen's dedication to the team has been steadfast, but following the loss of a fellow colleague, Karen stepped up to fill the void, and extended her volunteerism to three days a week, tackling merchandising, processing and acting as a backup cashier.
"The staff often say they don't know what we would do without her," added Stuart.
Thank you, Karen! We appreciate your devotion and leadership to make our store a success!
If you'd like to join our crew at Bread & Roses, we're always looking for wonderful people to join our team. Get started>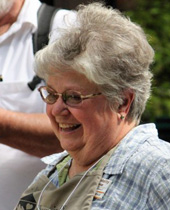 May Volunteer Spotlight: Mary Liebke
Mary Liebke is a loyal volunteer who has been a major part of the Hospitality House story from the start.
"I've been volunteering since the beginning when my church (Grass Valley United Methodist) vowed to start it," she recalled. She explained when she left church that day, she and fellow church members found a homeless woman sitting outside on a bench with no where to go. They knew then with certainty that they made the right decision and together, they rallied their money to provide the woman temporary shelter in a local hotel.
From there, Mary's journey with Hospitality House only grew and she later helped open the welcome center and launched the Lunch Bunch crew—a group who made lunches every day to help local homeless individuals in need, but she recalled it wasn't always easy. Many days they worried they wouldn't have enough food for the families and individuals who were hungry, homeless, and needed help.
"We'd pray for food for lunches and it would always come," she said.
When Utah's Place opened in 2013, Mary was eager to help. "I was there every night for the first few months of the dinners to help people," she recalled.
Today, the culinary kitchen is named in her honor and she continues to lead every volunteer cook team at Hospitality House.
"Mary Liebke is a stone in the ever-changing sea of humanity that is our shelter," said Isaias Acosta, Program Manager. "She is foundational in the greatest sense and without her, like the keystone of a building, so many things would lack the support to stand. Her commitment to the mission of Hospitality House, and her support of myself and the food teams through straight forward communication and practical decision making demonstrates the power of resolve when there is nothing else but the will to do what is right. She is a paragon of virtue, and someone who is of the highest quality. It's through her consistent attention to putting everything in its place that the miracle of the food group calendar comes together without so much as a gap. Mary's ability to find the right person, or team, to fill the next gap when the time comes for teams to move on is the stuff of legend. There is no discounting the amazing work our food providers and other volunteers do but every stone needs its mortar, and Mary is the divine instrument which holds our house in order. Thank you, Mary, I appreciate you more than you know."
From all of us at Hospitality House, thank you, Mary!
Learn more about volunteer opportunities at Hospitality House>
April Volunteer Spotlight: Liz McGuire
Liz began volunteering at Bread & Roses in June 2017, working there four days a week, on average three to four hours per day to help ensure the store's success—that's approximately 1,472 hours donated to date! Last month, when Liz learned the administrative office needed help, she jumped at the opportunity to give further.
Having Liz on our team is wonderful," said Frank Gates, Volunteer Manager. "She proves time and again her dedication to Hospitality House and its mission to bring homeless people in Nevada County into a circle of community caring that offers shelter, sustenance, and care as we assist them in transitioning from homelessness to housing.
Liz now volunteers in the admin office two days a week, in addition to volunteering at Bread & Roses three days a week as well. Be sure to say hi to Liz the next time you're shopping.
From all of us at Hospitality House, thank you, Liz! We appreciate you!
Volunteer Opportunities
Interested in joining the amazing volunteer team at Hospitality House? There are several areas of need, and you can make a difference like Liz. If you'd like to learn more about volunteering, contact Frank at 530-615-0805 or by email at frank@hhshelter.org.
March Volunteer Spotlight: Margaret Little
In the wet, cold winter of 2004, a small group of concerned residents gathered to discuss their dream of helping the many homeless people in western Nevada County by providing shelter and food during the winter months. Margaret Little was among this small group who helped start Hospitality House.
After 15 years of committed volunteer work, Margaret is still serving homeless neighbors in Nevada County. She has served as a board member for Hospitality House; she currently volunteers at Bread & Roses Thrift and More twice a week; and she helps at fundraising events every single year to benefit the shelter.
Margaret is committed to the mission of Hospitality House and its efforts to bring homeless people in Nevada County into a circle of community caring that offers shelter, sustenance, medical care, advocacy, opportunity, dignity, and hope as they transition from homelessness to housing.
Thank you, Margaret, for being a pioneer of the only emergency shelter in Nevada County; for tirelessly giving back to your community; and for never leaving a homeless neighbor behind.