Volunteer Spotlight
Every month Hospitality House staff honors an outstanding volunteer for their leadership and dedication to our cause.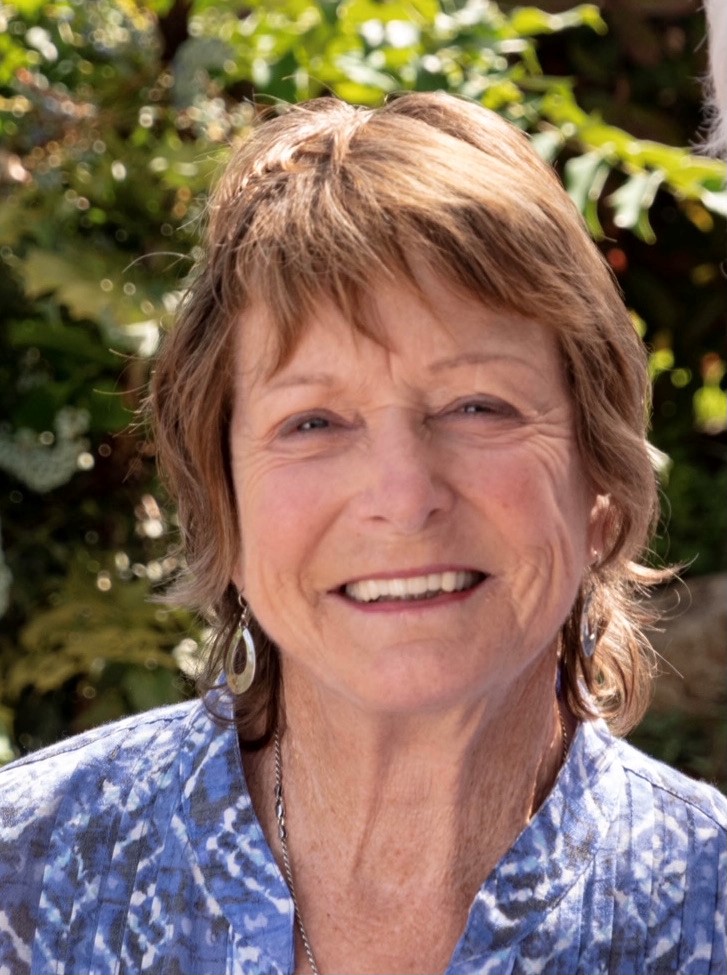 October Volunteer Spotlight: Suzie Miller

"It's in my genes. I follow in my mother's footsteps," said Suzie Miller. "I always feel by the grace of God I could have easily been in their position (homeless). In my earlier days, I could have easily taken one turn and been homeless. I am grateful that I can help."
For the last decade, Suzie has been giving her heart to Hospitality House with no plans to slow down. She first heard about our nonprofit at women's bible study offered at Twin Cities Church (TCC) and knew she wanted to get involved. At that time, Hospitality House had no physical shelter and relied on churches to open their doors each night to those in need.
"We would cook everything from home and bring big fat batches of soup to the church," recalled Suzie, who noted at that time, she generally cooked for 30 to 40 people experiencing homelessness. (Today, Hospitality House averages 90 people a day).
When our permanent shelter, Utah's Place, opened in 2013, Suzie's desire to cook only deepened. In addition to cooking with the TCC team under volunteer Margaret Little and eventually taking over as team co-lead with fellow volunteer Laurel Vieaux, she also helped lead a second cook group, the Lake Wildwood Christian Club, for two years, on top of volunteering in other capacities, such as helping at Hospitality House events and coordinating speaking engagements for Hospitality House staff.
"What I have enjoyed most is bringing along people who don't know about Hospitality House and getting them to come in and volunteer," she said. Suzie recruited not only friends and neighbors but family, too. "It was very special that I was able to bring my granddaughter Alyce in to help serve one time."
Over the years, the TCC team became well-known in the shelter for their famous meatloaf, that they typically serve with fresh veggies, a loaded salad, and dessert.
"We did meatloaf once and everyone loved it, so we do it every time," she explained. "It made it easy for shopping and as the numbers got bigger, it was easy to add onto the ingredients."
The team, which Suzie and Hospitality House deeply credit for their devotion, includes Donna Ellert, Bob Whiteaker, Dorin Rollins, Susanne Vaughn, Barbara Tiegs, Becky Thompson, Pat Miller-Fee and Sharon Norton (as well as subs: Larry Ellert, Carol Battles, Glenda Skibitzke, Rhonda Yates, Arlin and Olivia Torbett).
"I love Hospitality House," she concluded. "They get involved in the community and they have wonderful hearts … and the guests, you can see it in their eyes—they are so grateful."
Thank you, Suzie. We are grateful for you!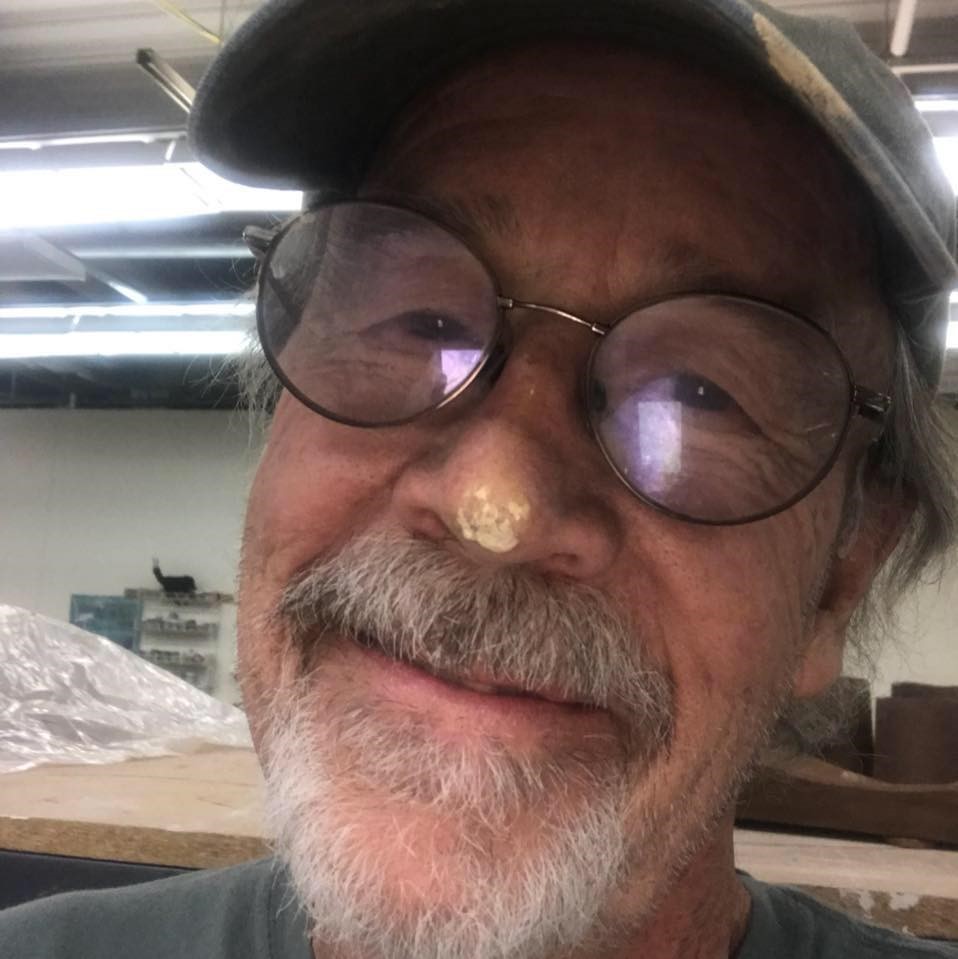 September Volunteer Spotlight: Bob Davis

We'd like to thank artisan potter and co-owner of Froggy Mountain Pottery, Bob Davis, for his ongoing support of Hospitality House. Bob has been donating his beautiful artwork every year to help make Empty Bowl possible since 2015 and this year he handcrafted and donated 50-plus gorgeous bowls, which have been peppered across our seven featured restaurants.
"Empty Bowl is a great event that I believe strongly in and look forward to each year," said Bob. "I have a growing collection of bowls by other ceramic artists, exclusively from Empty Bowl."
Bob first learned about Empty Bowl through artist Yvon Dockter, who is also a long-term donor of the event, as well as The Curious Forge. Creating work for Empty Bowl was a practical way for Bob to volunteer his time and talent for the shelter while creating immediate impact.
"Volunteering is important to me because I believe you get back what you put out," explained Bob. "This is an opportunity to give back; life has been good for me, and it feels very rewarding to give back to those in need."
Thank you, Bob, for helping those struggling in our community get back on their feet. If you'd like a chance to snag one of Bob's donated bowls for Empty Bowl, limited tickets are left. Buy here->https://emptybowl.rsvpify.com/
Support Bob's work and shop local-> https://www.froggymountainpottery.com
August Volunteer Spotlight: Karl Miller

We'd like to recognize and thank Karl Miller for his decade of service to Hospitality House. Karl and his wife Suzie (also an amazing volunteer) learned about Hospitality House through Twin Cities Church, shortly after moving here from San Mateo. At the time, Hospitality House was nomadic and relied on the kindness of churches to open their doors for people experiencing homelessness.
Karl and Suzie began helping with the lunch efforts offered at TCC and soon began to familiarize themselves with the guests.
"Working with the guests was a powerful experience," recalled Karl. "We got to see the regulars, see the new people, hear their stories. It was just a great experience."
After Hospitality House's permanent shelter, Utah's Place, opened, Suzie began cooking at the shelter with fellow TCC members and Karl found another way to help people experiencing homelessness: Empty Bowl. While attending the 2016 Empty Bowl benefit for Hospitality House at Peace Lutheran Church, Karl admired the many bowls donated by local artists. However, as a woodcraftsman and member of the Gold Country Woodturners, he immediately noticed all the bowls were ceramic.
"I found the woman who was organizing the bowls and I asked if they might like to have wooden bowls," recalled Karl. The answer was a resounding yes and for the last five years, Karl and fellow Gold Country Woodturners have been turning bowls for Empty Bowl.
Today, Karl remains the woodturner coordinator for Empty Bowl, rallying the woodturners to turn bowls throughout the year. With the volunteer program at the shelter suspended as a result of the pandemic, Karl and Suzie have been faithfully donating month after month to ensure guests receive fuel and sustenance to move forward.
"Volunteers make things happen in Nevada County," said Karl. "We wouldn't see nearly as much done if it weren't for the volunteers."
Thank you, Karl, Suzie, and fellow woodturners for standing by Hospitality House and helping guests get back on their feet through art, cooking and kindness.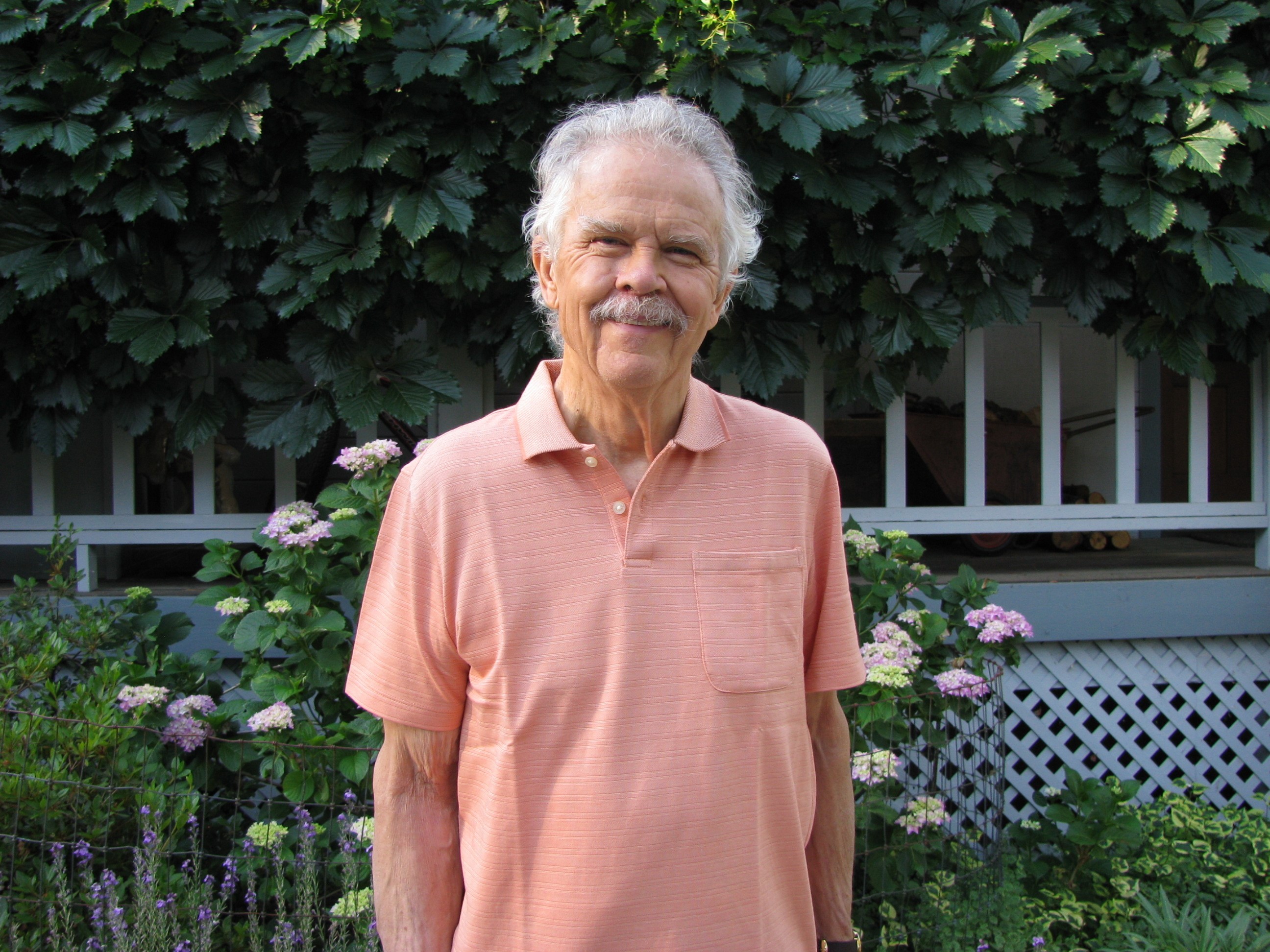 July Volunteer Spotlight: Robert Cairns

Rob Cairns first began volunteering at Utah's Place in 2016 after learning from then board member, Yvonne Turner, and co-founder, Joanna Robinson, that the shelter was looking to introduce a volunteer spiritual support group.
"We mainly stay quiet and just listen to people and give them a voice, and that in itself sometimes works miracles," explained Rob. "If a guest wants to talk about their spirituality or religion, we are happy to go there with them, but we do not necessarily talk about that; it's basically supporting their spirits and knowing that someone cares about them and that what they think and say is important and worthy."
For the last few years, with the exception of covid, Rob and other spiritual support volunteers have faithfully visited the shelter and opened their hearts and minds to anyone who needed it.
"After guests get to know me and trust me, some of the things they share with me are pretty personal and deep, deep seeded things," reflected Rob. "Some of the guests there they just boggle my mind, what they have been through, the things that they have gone through, what they have accomplished in the past, their intellect and insight on things, it has really expanded my consciousness and awareness."
Rob's consciousness and compassion for those experiencing homelessness comes easy, as he himself has been in their shoes. For years, Rob intermittently struggled with addiction and homelessness, never knowing for sure if he would have a warm bed in a shelter or be sleeping under the stars.
"I camped for a while and would find a land way out, and sometimes I would have to move every once in a while, if someone found me," he shared. "And then another time I would stay wherever I could, sometimes in people's couches, garage, basement, or anybody that would take me in. I managed to get over my addiction issues and steady work and went through the steps of sharing a room in a house, getting my own apartment, and then stepping up until I was able to buy a home. One step at a time, it is an arduous journey."
Rob's journey back to housing and sustainability led him to giving back. On top of volunteering, he is a member of Hospitality House's Hearts & Hands Club, giving every month to ensure the shelter can continue to respond to the greatest needs. Rob and his family recently moved to Santa Fe, but he hasn't stopped thinking about Hospitality House. To ensure help will always be available for those who need it, including in the long years after he is gone, he joined the Hospitality House Legacy Circle by naming the nonprofit as a beneficiary in his will.
"An organization like Hospitality House meets the most basic needs that people have," he said. "Starting from the very bottom, physical safety, food and shelter and a sense of belonging and a sense that someone cares about them, these are basic human needs. You can't really fulfill people's higher needs until they begin to fulfill their basic needs. That's really to me the most important thing of organizations like Hospitality House. They are starting from scratch to take care of people …"
Thank you, Rob, for caring for Nevada County residents and lending your ears to those who need help being heard.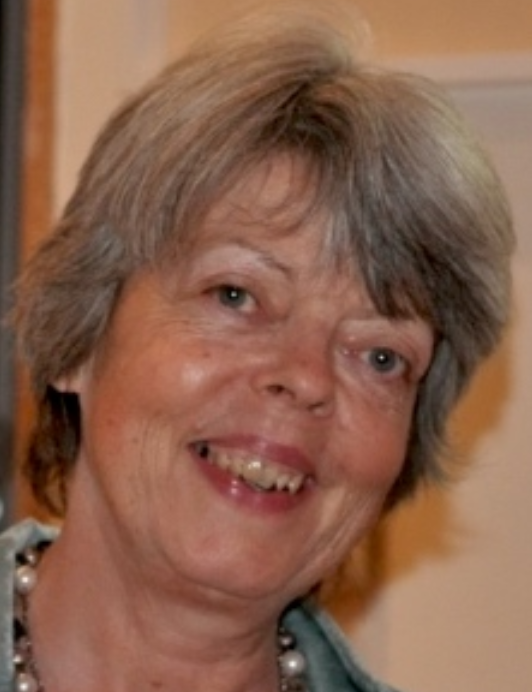 June Volunteer Spotlight: Christine Mulvey

Hospitality House would like to honor Christine (Cris) Mulvey as Volunteer of the Month for June.
Cris first learned about Hospitality House when she moved from Montana to Nevada County in 2015. Her husband Jack began volunteering as a shelter advocate just before COVID-19. When the pandemic struck in 2020, Hospitality House reacted to an increased need for service by expanding programs and operations. When Hospitality House was met with increased expenses, Cris stepped in to help.
Cris created a way to meaningfully contribute to the work of Hospitality House by volunteering online. She worked with the Development Department, researching grants and identifying potential funding options.
Cris shared, "sharing what has been given to us, my husband and I, is increasingly imperative. Homelessness is growing in the U.S. and around the world [and] seems to me to be a priority issue, the most basic need there is, without which people have no hope of creating a life that works or of living into their potential." She and Jack also wrote an article, published May 2020 in The Union, which encouraged residents to give during the pandemic.
"I have found volunteering to be a source of great peace and satisfaction to me as a retired person," shared Cris. "Being able to use the skills and knowledge I developed in my professional life, to contribute to those who are working now for the values I believe in, rather than letting them fade away, feels good. More importantly, I am making a practical contribution to the quality of life for those in my community who do not have what they need and deserve."
Although Cris and Jack recently relocated to the coast, she still offers to volunteer remotely for Hospitality House. She is grateful for all that Hospitality House does for the community, and we are grateful for her.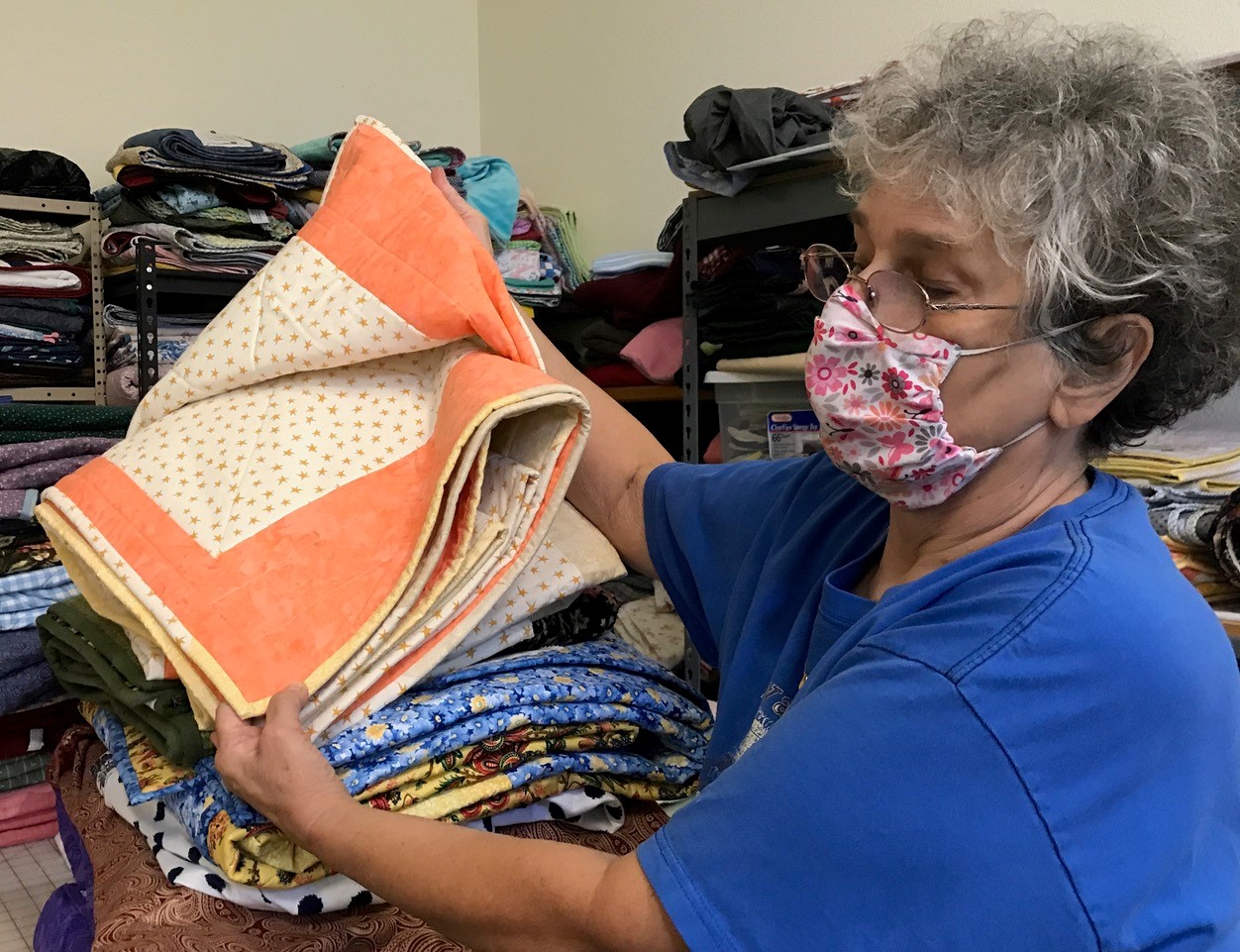 May Volunteer Spotlight: Nancy Holtz
The needs at Hospitality House are many, and Nancy and the Pine Tree Quilt Guild help to fill the need. For several years, the Quilt Guild has given quilts to our shelter, providing covering and a gentle hug to those who need warmth and security.
Nancy has been involved with Pine Tree Quilt Guild for five years. For the past two and a half years, she has been the chair of Community Service team. "Community Service is a caring group of volunteers who help every month in various capacities," explained Nancy. She and her fellow volunteers sort fabric donations, sew on labels, match backs to donated tops, cut batting and sew binding. "Creating a quilt and giving such a gift is a group effort," she added, noting that she and the Community Service provide quilts for Hospitality House and other organizations.
Nancy has fifty total years of nursing experience, with the last twenty as a nurse practitioner. Her experience and passion has led her to volunteer in the community. Nancy has administered Covid vaccines, volunteered with California Care Force in both Grass Valley and Sacramento clinics. She continues to work two days a week in a family practice office with no plans to retire any time soon.
"I have a heart for helping others," said Nancy.
Thank you, Nancy and the Pine Tree Quilt Guild, for sharing your skills, passion, and love for the homeless individuals in our care.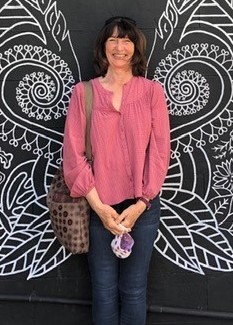 April Volunteer Spotlight: Beverly Werntz
This month, we would like to honor Beverly Werntz for eleven years of service as she continues to care for homeless individuals in Nevada County. Serving others has always been important to Beverly, both in her professional role as a registered nurse and through volunteering with Hospitality House.
After retirement, she wanted to continue to serve. Beverly says, "Many of the guests have touched my life. I still see so many of those faces when I close my eyes and the differences in them after being accepted and loved by the work of Hospitality House."
Beverly's friend Judy Olson invited her to help provide lunch for guests when the emergency shelter was still nomadic. Originally, she thought she would help once a month, but soon fell in love with the guests and experienced meaningful fulfillment in the service. Beverly started helping at least once a week. When Utah's Place opened four years later, she coordinated two cook groups, Blessed Sister and Kitchen Kut Ups. These groups purchased, prepared, and served dinner to shelter guests for six years, until Covid-19 restrictions prevented volunteers from entering the shelter. "The most impactful time at Hospitality House is every time I serve," said Beverly.
The groups with which she serves bring her such joy, and there is always an encounter that stays with her long after she leaves for the night. The sincere and heartfelt appreciation that comes to her after a lovingly prepared meal makes her work in the kitchen meaningful. She looks forward to the time she and her group can come back in person.
"I am so proud to volunteer for this organization," shares Beverly. "Hospitality House really is the model for caring for our homeless population. Spending time with guests, looking them in the eye when talking to them, and hearing their stories has changed my heart and mind about our homeless issues. I wish every community could come together like we do here in Nevada County."
Thank you, Beverly for your continued dedication to Hospitality House and the guests we serve!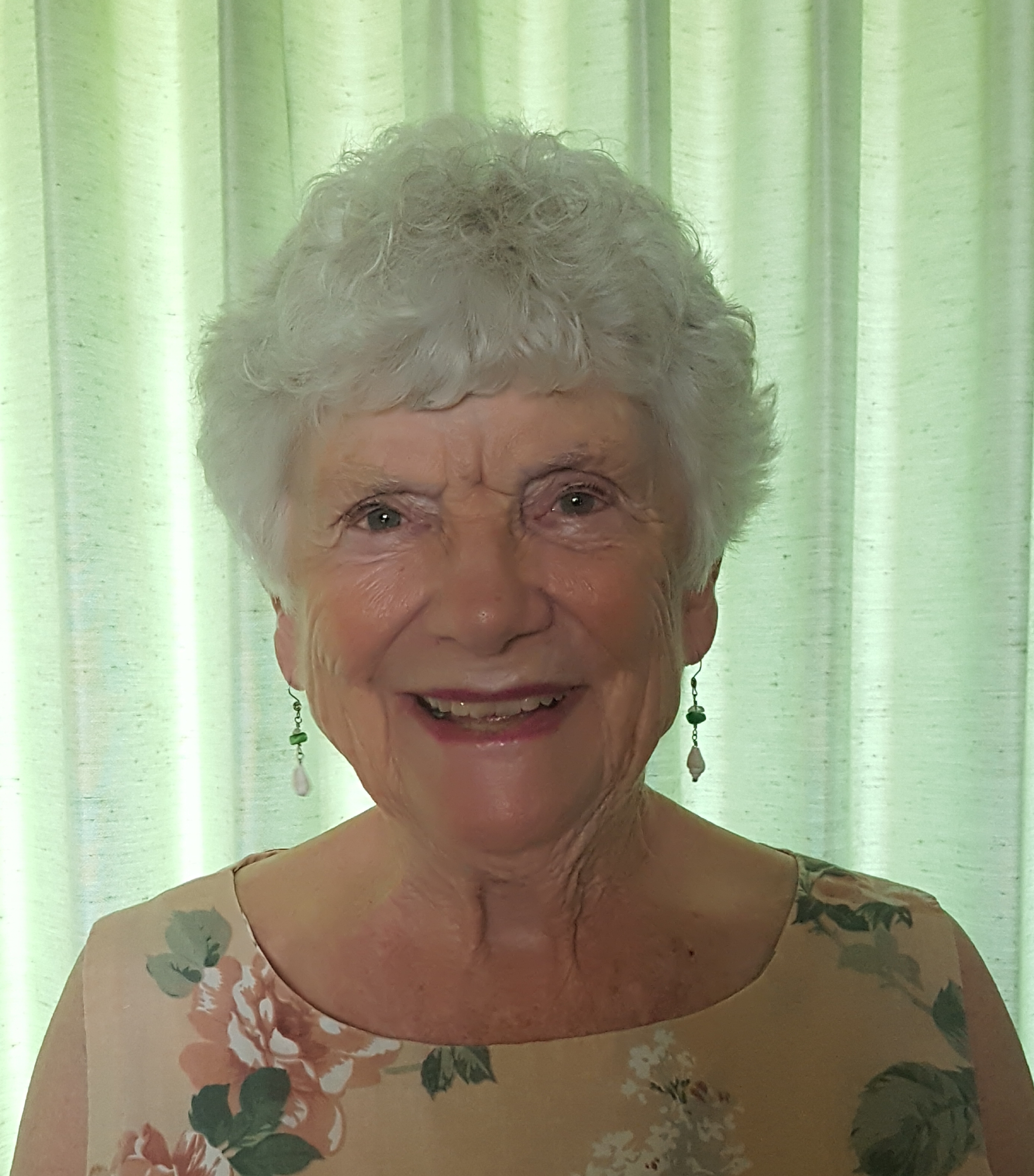 March Volunteer Spotlight: Barbara Dean
For years, Barbara was disturbed whenever she passed a struggling person holding a sign or asking for help. She wished there was something she could do that would make a lasting difference.
When Hospitality House was a nomadic shelter, Barbara got involved once a month with her church. She started out serving dinner to homeless guests. As the program expanded, and the number of guests grew, she increased her service by becoming a member of the "Lunch Bunch". This group of volunteers served sandwiches, salads, and hot food. Barbara served faithfully as a member of the Lunch Bunch until Utah's Place opened in 2013.
Barbara witnessed the excitement of the opening of Utah's Place and began serving right away. Barbara reflects, "I love to cook, and the guests have been so appreciative of our efforts. I have also enjoyed working with and getting to know other members of our community who have come to serve."
Barbara has demonstrated a strong commitment to Hospitality House and our guests. For a while, she held a weekly class for women guests, sharing what she was doing in Sacramento at Women's Empowerment.
Although the pandemic has limited her direct involvement, Barbara continues to be an advocate for Hospitality House. She is pleased to see that guests have stepped up to help with cooking and have the opportunity to live at the shelter full time as they work toward permanent housing solutions.
Thank you, Barbara, for making a lasting difference!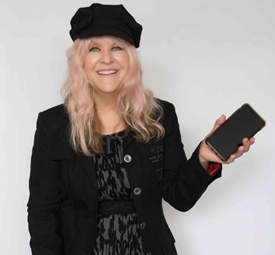 February Volunteer Spotlight: Pamela Roberts
Pamela has been gifting her marketing talents to Hospitality House for approximately four years, specializing in event promotions, ad strategy and placement, and social media to increase awareness and support for Hospitality House.
"One of the first campaigns I really dove in on was the Empty Bowl event a few years ago," recalled Pamela. "When it sold out and Hospitality House reported it was the best attendance they'd ever had, I knew that meant I'd been able to help raise essential funds and awareness for HH. Rewarding for sure."
"I'm a big fan of the ideals of the great Utah Phillips," added Pamela. "I see what incredible work Hospitality House does and how they show up as champions for friends in our community that are struggling. This is work we should all find a way to get involved with."
In addition to helping in the promotional efforts of signature events, such as Empty Bowl and Night of Giving, Pamela takes it a step further by donating her musical talents, too. You may recognize Pamela as a member of the SierraCapella band, a group that sings their heart out at Night of Giving.
"It's an honor to be helping HH and see that my contributions have real impact for the organization and their guests," said Pamela. "I'm in awe of the work the staff and volunteers do for our community. They have my sincere gratitude."
Thank you, Pamela, for your loyal advocacy of our shelter and for furthering our work through awareness, promotions and song. We appreciate you.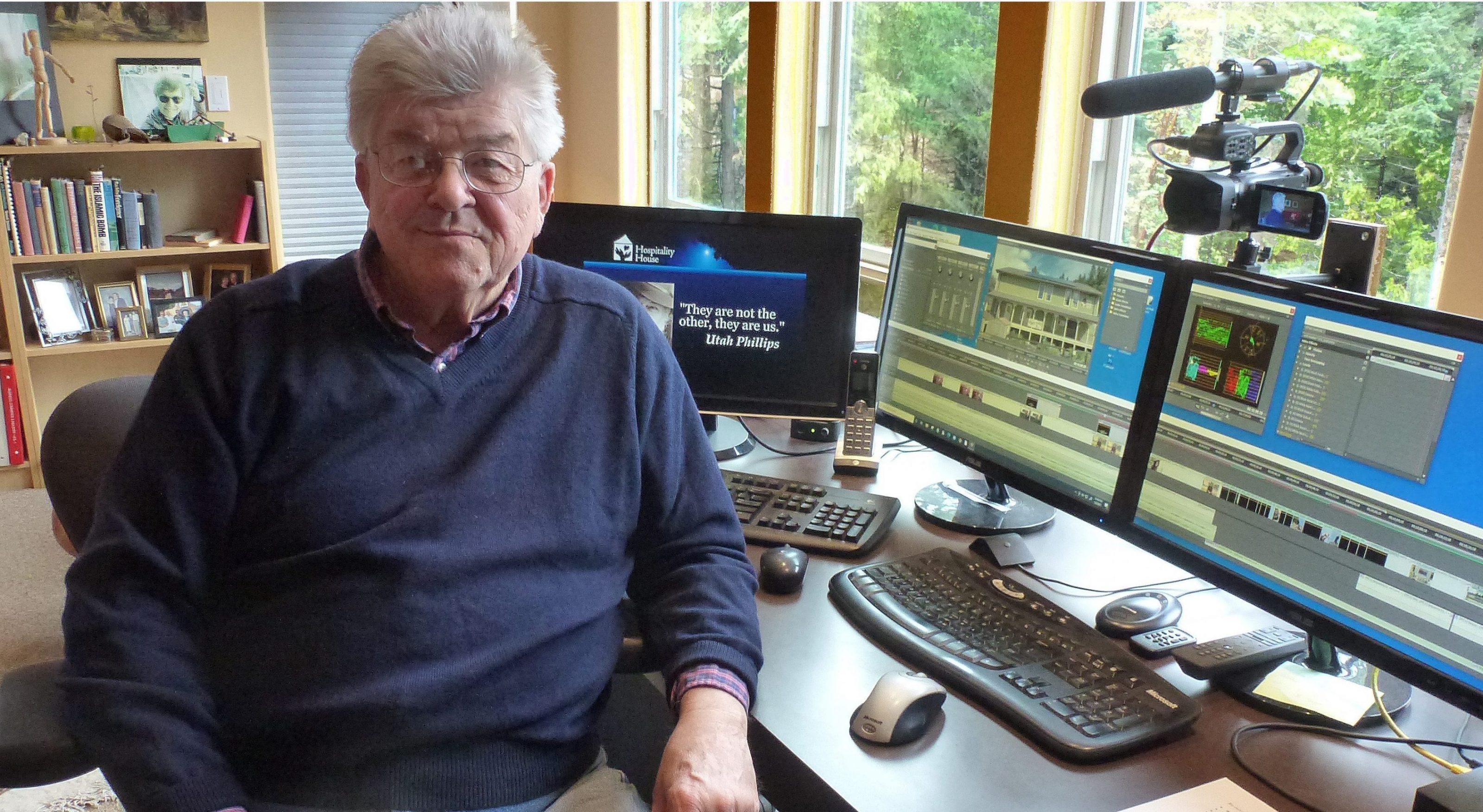 January Volunteer Spotlight: Dick Mentzer
Local videographer and volunteer, Dick Mentzer, has been helping Hospitality House since before we became an official nonprofit in 2005. In approximately 2002, Dick helped edit video interviews of Utah Phillips, one of our founders and soon met Utah's wife, Joanna Robinson, also a founder.
"I really got hooked on Hospitality House after meeting Joanna Robinson, who's commitment to doing good works was, and is, infectious," explained Dick. "One of the first videos I worked on was before Utah's Place [the physical shelter, named after Utah Phillips]. At that time, HH was a 'nomadic' program, organized in conjunction with community churches and amazing volunteers secured sleeping and feeding arrangements for dozens of clients each day. Doing the video was an eye opener for me about both our homeless challenges and contributions of our fantastic community of volunteers."
That first video turned into dozens more through the years—not only for Hospitality House but for several nonprofits in town. At Hospitality House specifically, Dick works one-on-one with homeless and housed guests to tell their stories to help increase awareness. He also is one of the primary video leaders who help make Night of Giving possible each year to streaming audiences.
"Making even a small contribution is personally rewarding but doing these videos for HH and other nonprofits has also provided the opportunity to become part of our larger community and work with some terrific people," added Dick. "For more than a decade, I've had the pleasure to work on HH projects with volunteer videographers Mark Triolo, Jim Heck, and Brendan Brooks, which has been special."
Thank you, Dick, for your commitment to our work and kindness to our guests for all of these long years and for many more years to come.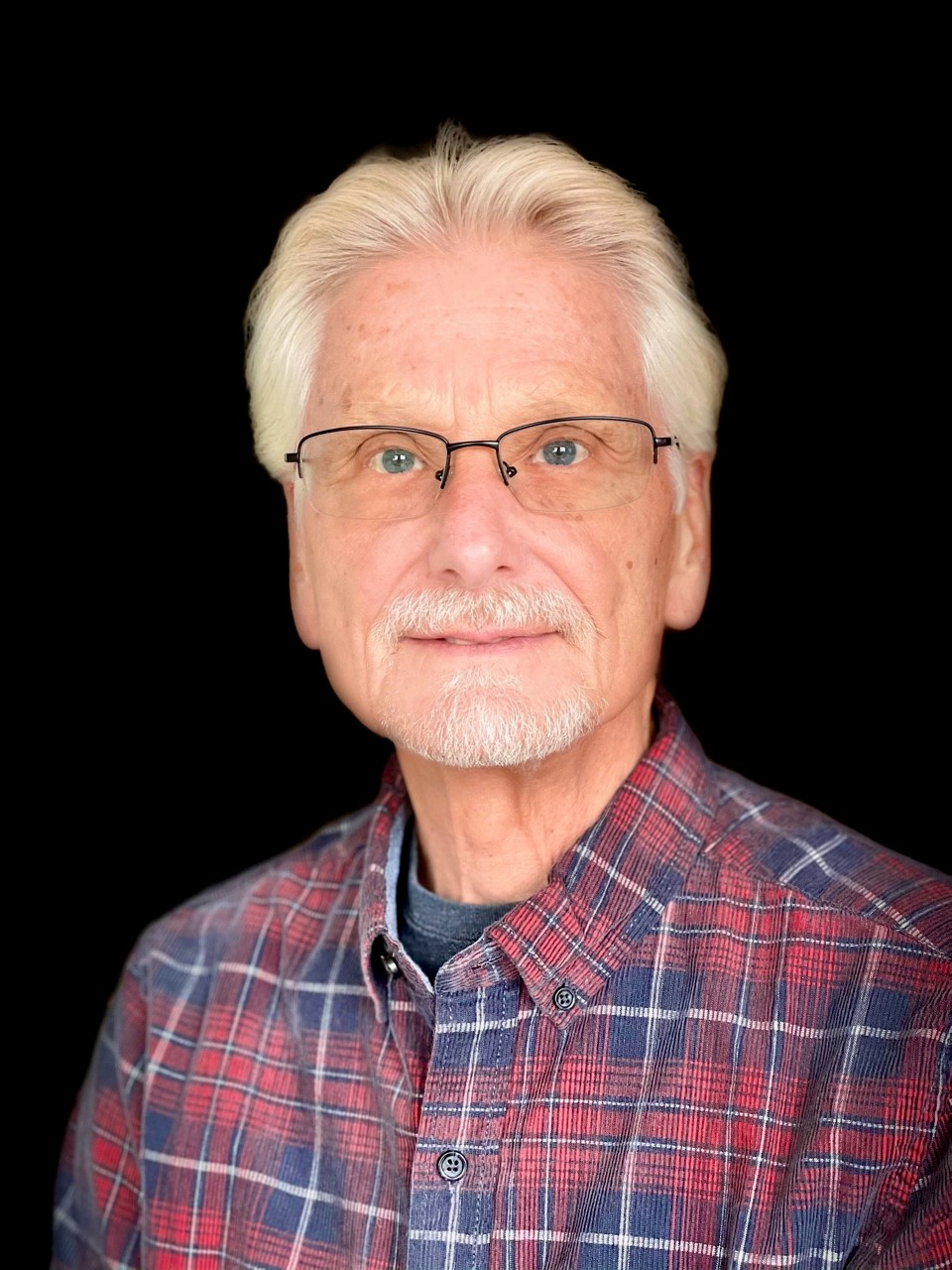 December Volunteer Spotlight: Jim Heck
Did you know that livestreaming of Night of Giving started because of our volunteers? Jim Heck was one of them. Five years ago, he learned that Hospitality House didn't have the capabilities or technology to livestream their annual musical benefit, so he offered his help and hasn't looked back.
"During my early days with Nevada County Community Television (NCTV) we began collaborating with Telestream to bring livestreaming to Nevada County by utilizing Wirecast, Telestream's professional live video production software," recalled Jim. "My goal was to use livestreaming to YouTube, Facebook and other CDN's to help nonprofits reach out to their members and assist in fundraising. When I found out Hospitality House was going to do its Night of Giving event, Dick Mentzer [another volunteer] and I reached out to Mikail Graham [event host] about livestreaming the performers."
Ever since that first event, Jim has stayed connected to Hospitality House and has helped not only on the video technology side of Night of Giving but with additional video projects throughout the years, including guest interviews, our solar install last year, and related.
Jim understands that when he volunteers, he directly helps people in crisis, but that knowledge really came to light when Jim discovered someone he knew was staying at Hospitality House.
"I stopped at a local coffee shop a couple of years ago and ran into a familiar face," recalled Jim. "I hadn't seen him in a long time …  He was gracious, soft spoken and always went the extra mile to help everyone. Through no fault if his own he ran into health problems, found himself without a job and homeless. Fortunately, he had Hospitality House to help him during that difficult time. This emphasized to me the importance of having Hospitality House in our community to help when unforeseen circumstances happen and can render someone homeless. It is vital for our community to keep Hospitality House financially viable through volunteering, donations and grants."
Today, Jim continues to help Hospitality House as much as he can. He recently helped film some of the segments that will be featured in this year's Night of Giving. Thank you, Jim, for bringing technology and heart to our team.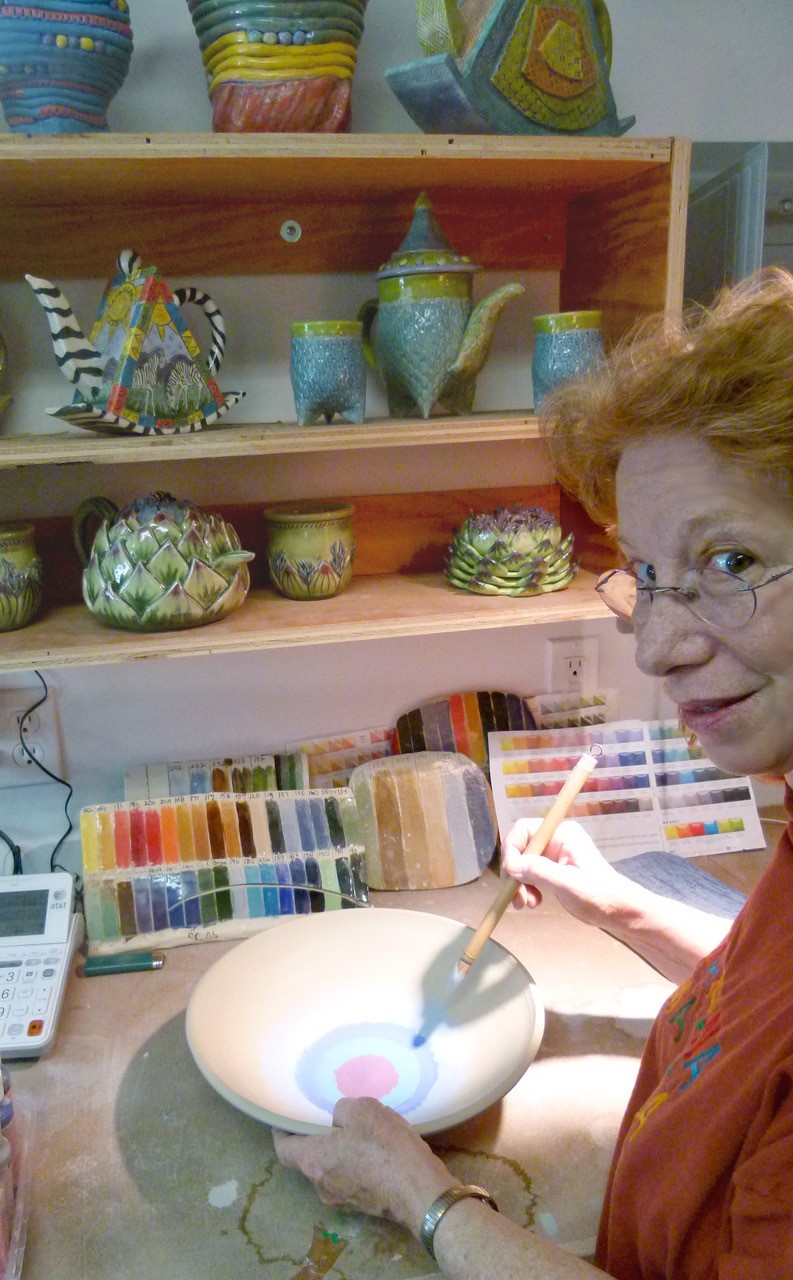 November Volunteer Spotlight: Mindy Oberne
This month we'd like to recognize Mindy Oberne for her faithful support of Hospitality House and advocacy on behalf of those less fortunate. Mindy is a well-known artist in the community and the founder of Twin Star Gallery Ceramics & Photography. She began volunteering with Hospitality House after learning about the nonprofit through friend and fellow artist, Chic Lotz. Since that time, every year Mindy has created and donated 100 bowls to help make Empty Bowl possible.
"I think we all need to feel like we're making a positive difference in people's lives," said Mindy. "It gives purpose and great fulfillment knowing you've helped others."
Despite the traditional Empty Bowl being canceled this year due to the pandemic, Mindy was the featured Empty Bowl artist of 2020 and assisted in bowl distribution to ticketholders this past July. In past years, she's also led the silent auction efforts for Empty Bowl, in addition to volunteering for other opportunities as they arise with Hospitality House and alike nonprofits.
"It's important that those who are down and out know that there are people out there who do care," added Mindy.
Mindy's care for others inspired her to do more for Hospitality House and on Dec. 5 and 6, she is hosting a special artist benefit called "The Weekend of Giving" in the shelter's honor. Mindy specializes in one-of-a-kind ceramic pieces, including statues as well as functional art, such as teapots, bowls, cups, and more. She's also a professional photographer of local scenes and of Antarctica, all of which will be on display and available for purchase. 100% of the proceeds from this weekend will be donated by Mindy to Hospitality House. Buy an item from Mindy and directly support Hospitality House in the process.
We thank you, Mindy, for your continued advocacy, love and support and for hosting what is sure to be a beautiful artist benefit for our homeless community.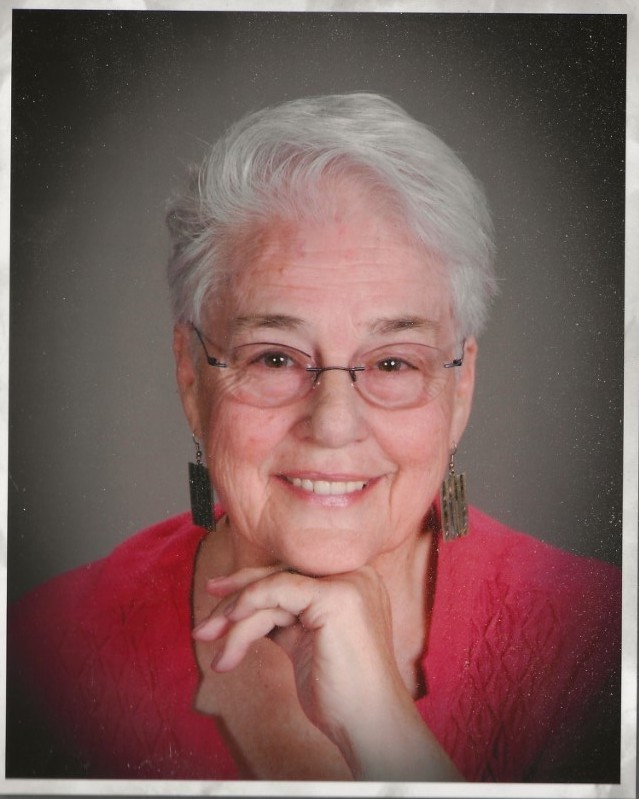 October Volunteer Spotlight: Jo Ann DeSena
Jo Ann has been a part of the Hospitality House family since its nomadic days when guests found sanctuary at various churches each night, including her church, Peace Lutheran.
"I saw it in the church bulletin and immediately volunteered to cook," recalled Jo Ann, who has been cooking ever since (pre-pandemic).
Jo Ann's devotion to those less fortunate has been ingrained in her since a young age. Her grandmother had a cherry and apricot orchard and while her grandmother didn't own a vehicle or ever drive, she built a three-car garage on her property so the people working in her orchard would have a place to sleep each night.
"I carry on my Nana's legacy and provide for those that need a helping hand," explained Jo Ann. "God Bless them."
Through her years of cooking for those in need, Jo Ann has served many people, several of whom left lasting impact on her heart.
"One gentleman, who I observed back in the days when they slept at Peace began by never looking up," she recalled. "He looked at the ground and did not communicate at all. It took him a very long time but little by little he began looking up. The final time I saw him, he smiled and asked how my day was going. That is what I call a miracle!"
Encounters like these remind us that each guest's journey back to housing and stability is different, but everyone needs fuel and nourishment to move forward. In time, guests began recognizing the nourishment Jo Ann provided and they began fondly referring to her as the "Sausage Mashed Potatoes and Gravy Lady," a moniker for one of her favorite meals to cook and share with our homeless community.
We thank you, Jo Ann, for the countless meals you've made through the years. We miss seeing you at the shelter but appreciate your continued help from afar by donating food and financial support so we can serve your signature dish in your honor. Our volunteer program is expected to return when the County reaches Stage 4, but until then, we thank you, Sausage Mashed Potatoes and Gravy Lady!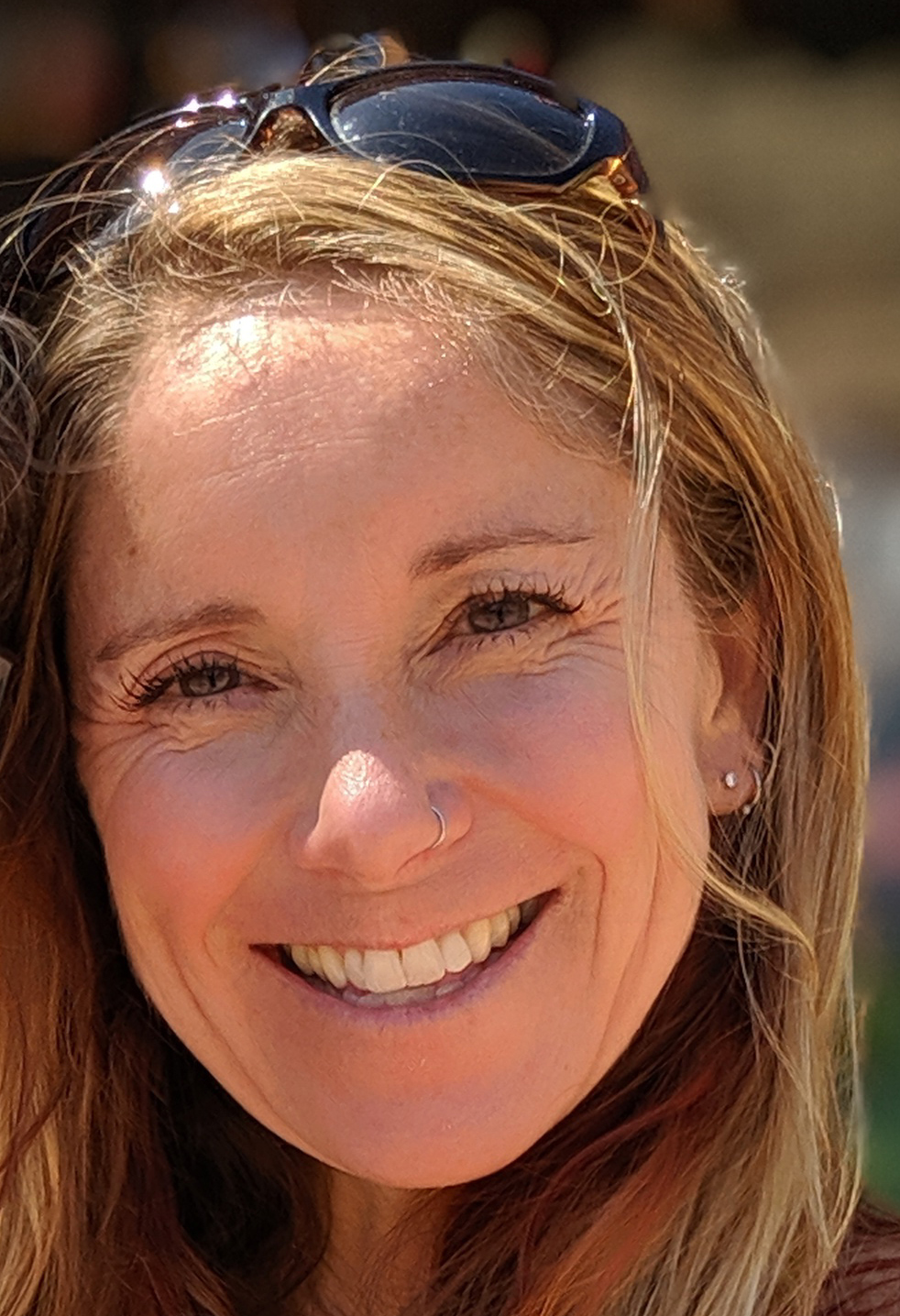 September Volunteer Spotlight: Kathy Dotson
For the last several years, Kathy Dotson, local designer and illustrator, has been gifting her graphic design talents to Hospitality House in a variety of capacities, but she's most known for her beautiful posters and flyers that bring awareness and support to Hospitality House events, such as Night of Giving and Empty Bowl.
"It is wonderful knowing that my design and artwork have been appreciated and valued over the years," said Kathy. "Hospitality House serves such a large need in our community. And over the years they have been such a valuable and necessary resource for so many people. As a busy graphic designer, I am fortunate that I can give some service to Hospitality House during the year."
Kathy has been loyally helping Hospitality House since approximately 2011, but prior to that, she had an experience with one of our founders, Utah Phillips, that has stayed with her all these years.
"A wonderful memory is having Utah Phillips sit for me while I sketched his portrait," recalled Kathy. "The finished watercolor painting sits in the offices of KVMR radio."
Today, Kathy continues to help Hospitality House and when she isn't designing, you can find her enjoying the great outdoors with her husband and two daughters. Thank you, Kathy!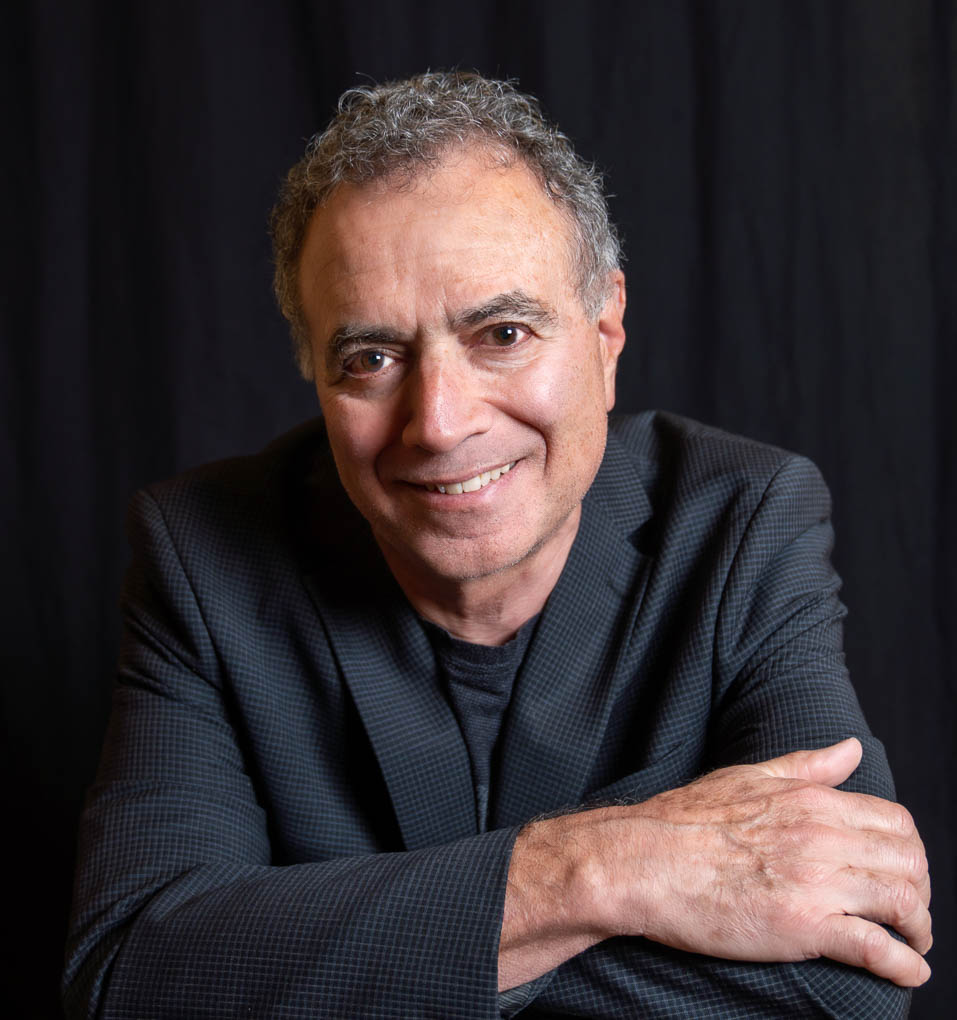 August Volunteer Spotlight: Mark Triolo
For the last nine years, Mark has been gifting his time and talents to Hospitality House. As a video production extraordinaire, Mark has helped create a number of videos for Hospitality House to raise public awareness and financial support for the shelter.
"These videos were designed to help the community understand what Hospitality House does, how they do it, the stories of guests … Many videos were to introduce new programs that Hospitality House was running or events like the Empty Bowl."
Mark has produced videos individually and as part of video teams, helping with concept development, production, filming and editing, but of all the videos he's helped produce, his favorite video tells the story of Hospitality House without words.
Watch here:
"One of my personal goals upon retirement was to give back to the community," said Mark. "I think we all, as community members, need to donate our time and talent to make this a better place to live … I get significant satisfaction from knowing that what I do makes life better for someone else … Since I know many of their personal stories, I feel a connecting to seeing them move forward. The most satisfaction comes from hearing that someone I know moved into housing and is now self-sufficient."
Thank you, Mark, for your years of dedication and for helping not only Hospitality House, but volunteering to further the work of multiple organizations in the community, including Interfaith Food Ministry, Sierra Nevada Memorial Hospital, KVMR, and The Nevada Theater.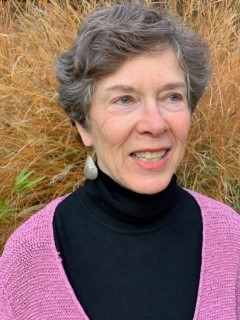 July Volunteer Spotlight: Pat Forman
Pat has a passion to serve. For the last two decades, she's been involved with the end of life movement and in teaching folks about advance care planning. She moved to Nevada City in 2015 and connected with Hospitality House soon after, becoming a steady volunteer and an honored member of the Hearts & Hands Club. She's served in a variety of capacities through the years, including cooking with the Mountain Stream team, helping at events and fundraisers, working at the former Bread & Roses Thrift and More, and acting as a spiritual care and end of life advocate in the shelter.
"From my college days, fighting injustice – working to make services and opportunities more equitable, affordable and available for underserved populations – has been my passion," said Pat.
Pat developed a deeper appreciation for helping those less fortunate following a trip to Cuba in 1988 with her teenage daughter. When they visited a local high school, a comment from a student in a class changed her forever.
The student had heard there were homeless people living on the streets in the US and said that couldn't be true and asked her daughter to explain.
"When my daughter talked about there being thousands of homeless people in the US, and having to step over homeless people on her way to school, the Cuban students were dumbfounded," recalled Pat. "The student said, 'How could that be? In Cuba, if someone saw a homeless person, she would take him/her home. We would never allow someone to live on the street.'''
Pat acknowledged things in Cuba are much different 30 years later but said, "That's one reason that this cause matters so much to me."
With Pat at our sides, Hospitality House continues to help people off the streets and into permanent homes of their own. We are grateful for Pam's kind heart, her advocacy, and her spiritual care and commitment to our homeless community.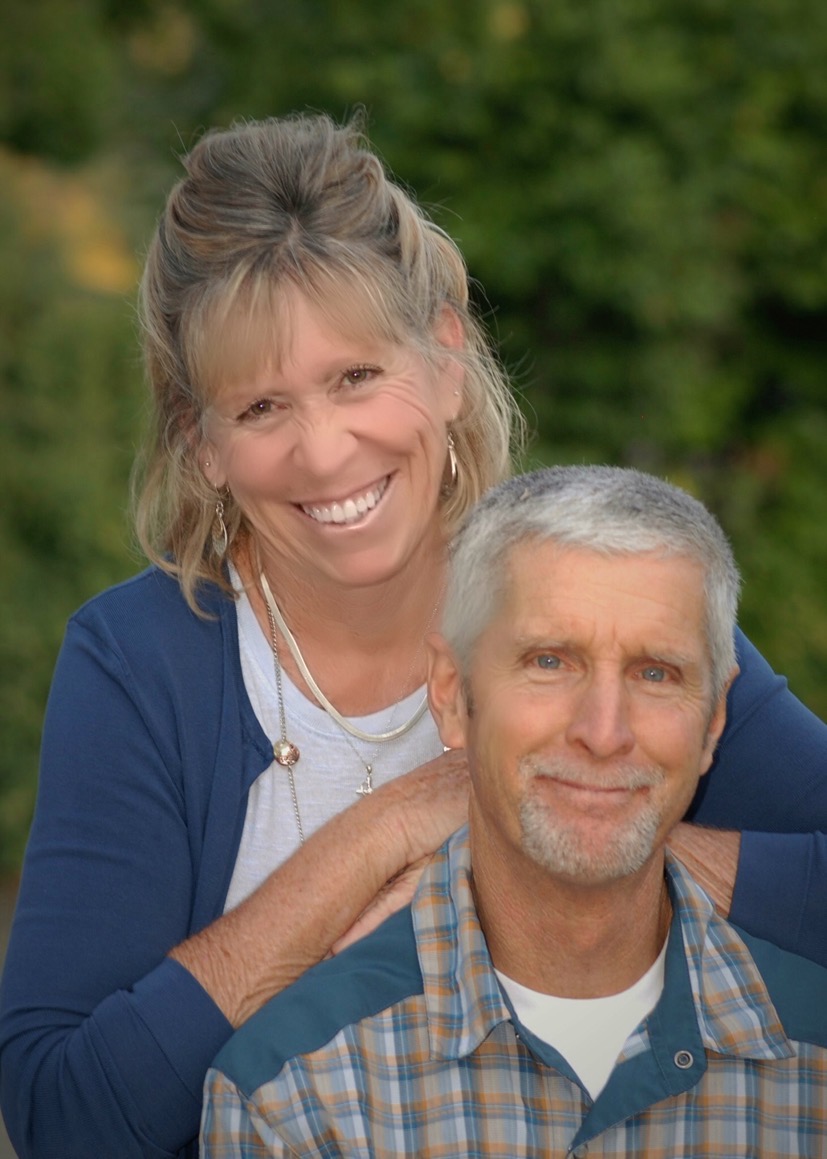 June Volunteer Spotlight: Cissy Murphy
Cissy has been a volunteer of Hospitality House since its second winter open. She was part of the Abundant Life group that provided dinners at one of the host churches during our nomadic period and packed lunches for 40-50 guests a couple times a week during the summer months.
"I've always wanted to help be a part of a solution, no matter the cause in which I feel called to embrace," said Cissy. "I also believe local communities are the ones best suited to provide solutions for local problems. In its beginnings, Hospitality House was a grassroots effort that was seeking to responsibly provide solutions to the problem of homelessness in Nevada County. Local people seeking local solutions that involved community members from civic organizations, churches, city councils, supervisors and individuals all working together. I was also attracted to Hospitality House because they had found a way for over 30 churches in our county to cooperate together to help provide a hand up to those in need. I thought that was so awesome–a common reason to set aside doctrinal differences to help others."
As the years passed on, Cissy's willingness to help only continued. Utah's Place opened in 2013 and Cissy and her Abundant Life Church group continued to cook and she also recruited staff from her work, Grass Valley Charter School, to come and cook as well. In addition to cooking, Cissy has been an instrumental event volunteer, leading the kitchen crews for Empty Bowl and Night of Giving and helping in the organization of smaller events, such a walkathon and yard sale fundraisers for Hospitality House.
"Cissy is a star volunteer who deserves to be recognized for her longtime volunteerism with Hospitality House," said Christina Apkarian, Marketing & Development Specialist at Hospitality House. "She has devoted many hours to help many in need in our community. Our events, as an example, take extensive hours to plan, and Cissy has always been there to lend not only her time, but her ideas to make each event experience the best possible."
We thank you Cissy for your years of dedication and love to our homeless community.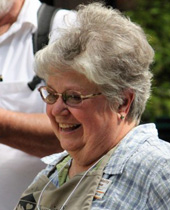 May Volunteer Spotlight: Mary Liebke
Mary has been a part of the Hospitality House family since it first came to be in 2005. For fifteen faithful years, Mary has been there for people struggling with homelessness. She's provided unconditional love as well as nurturing meals and peer support.
For those who have visited Utah's Place, the kitchen is named in her honor as Mary continues to carry the torch, leading and overseeing all volunteer cook groups who come to serve.
"Mary is an incredible human being," said Shelter Manager, Janella Kirkman. "She has a beautiful soul and she spreads goodness everywhere she goes. We are grateful to Mary and the compassion she always gives."
Even now, during a pandemic when fellow loyal volunteers like Mary can't come to the shelter due to safety, she inspires people to give in other meaningful ways. From afar, Mary has continued to engage our volunteers and advocate for our help, raising financial support and food for our shelter guests and motel clients.
"I appreciate being acknowledged but the spotlight goes to all of our volunteers right now," said Mary. "This is happening because of them."
We agree! ALL of our volunteers are incredible and we can't wait to welcome everyone back soon.
Thank you, Mary, and to all of our volunteers, for all that you do!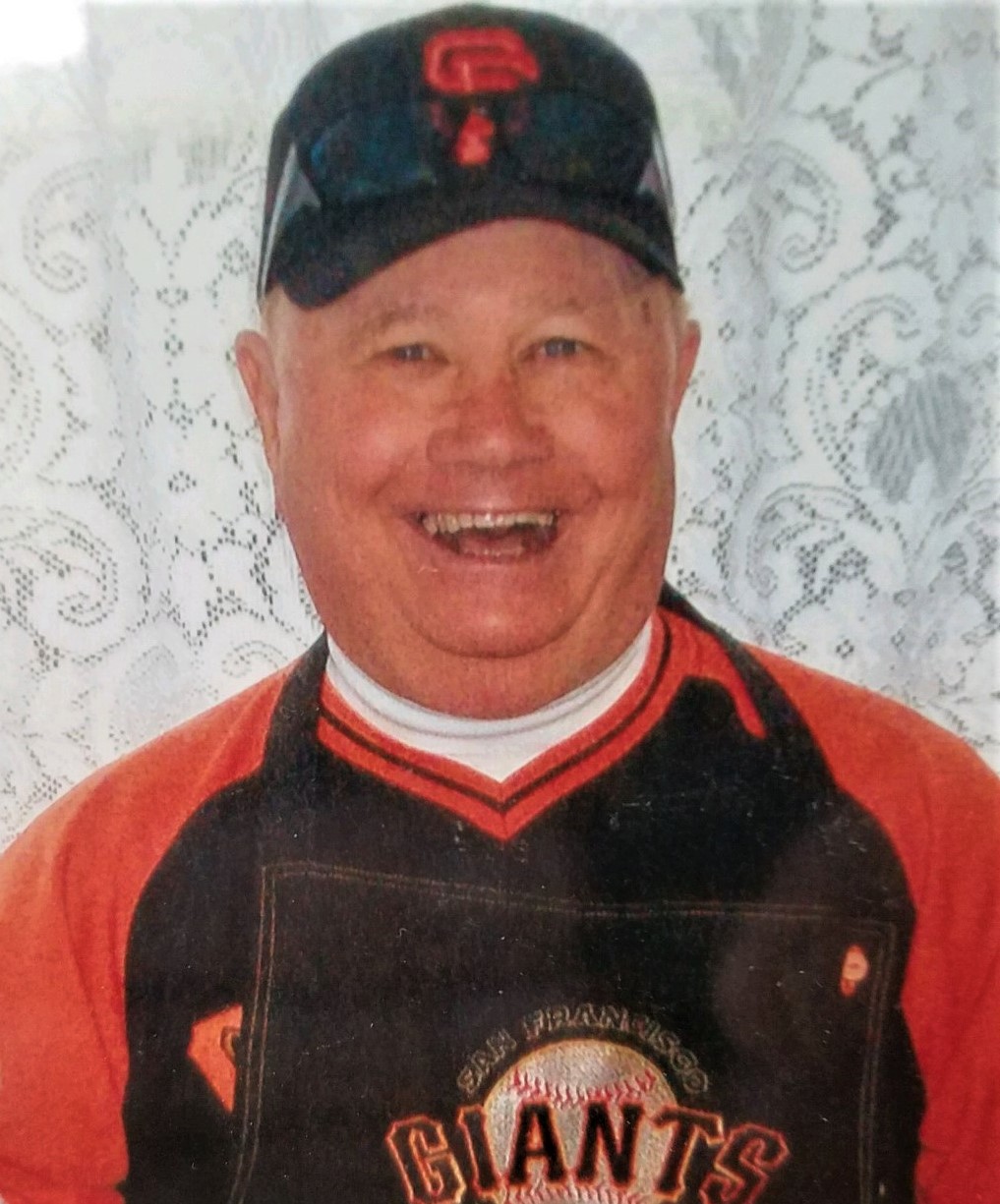 April Volunteer Spotlight: Frank Goss
Frank Goss first learned about the efforts of Hospitality House in May of last year, and after one conversation with staff, he took a tour of Hospitality House and immediately signed up to be a volunteer.
"Frank's dedication to Hospitality House has been incredible," said Ashley Quadros, Development Director. "It's hard to believe we've only had Frank in our lives for about a year because in just one year's time, he's changed so many lives forever."
Frank has taken on many hats at Hospitality House, including delivery driver for church donations, business sponsorship recruitment, raffle ticket sales for events, fundraising to help launch the pet program, volunteer recruitment and most recently, he's now one of the volunteer drivers from Lake Wildwood, helping with weekend food service to ensure the folks who have been temporarily placed in motels are also receiving hot and healthy meals.
"It's just one of those things I feel so deeply about," said Frank. "Seeing the smiles on the faces of people who receive the food, and the various things that we do. It's so community wise, so giving."
Thank you, Frank, for giving your time and talents. From all of us at Hospitality House, we thank you!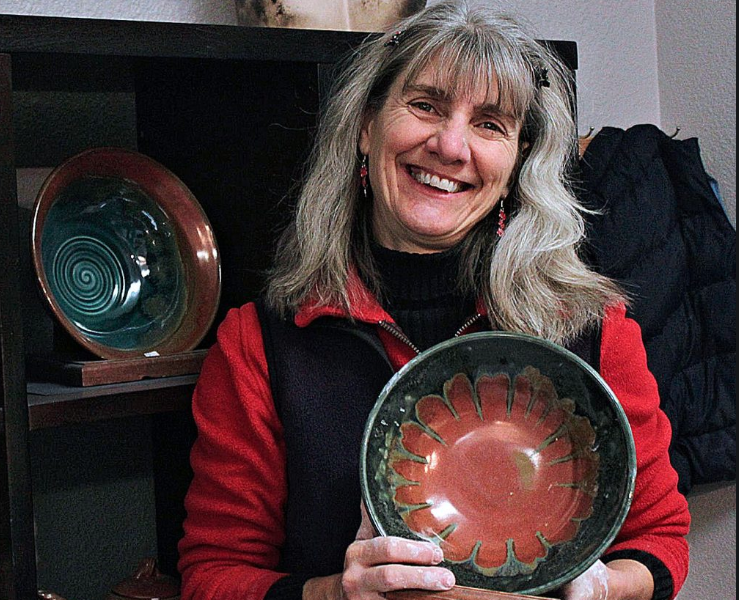 March Volunteer Spotlight: Chic Lotz
Thank you, Empty Bowl volunteer extraordinaire, Chic Lotz!
Chic's involvement with Empty Bowl precedes Hospitality House's inception. She first discovered this great opportunity to highlight the intersection between food and housing insecurity back in 1996 when she attended one in Ashland, Oregon. Soon after, she began bringing local potters together to create beautiful handcrafted bowls to be auctioned off with donations going to our local food bank and eventually to Hospitality House. Her dedication eventually blossomed into the driving-force behind this effort for our current event.
Back when we were a nomadic shelter, Chic held workshops for our guests teaching them her art and trade after Joanna Robinson (Utah Philip's wife) reached to her. Volunteering for Empty Bowl as was the workshops is near and dear to her heart because it is a combination of her two passions, giving back to her community and working with clay. As she puts its "doing this event has been a lot of fun" and at the same time she recognizes that homelessness can happen to anyone so in her words she "wants to give love-in whatever form- service, food, or support."
Thank you for your decades of support as we work together to help members of our homeless community transition to housing.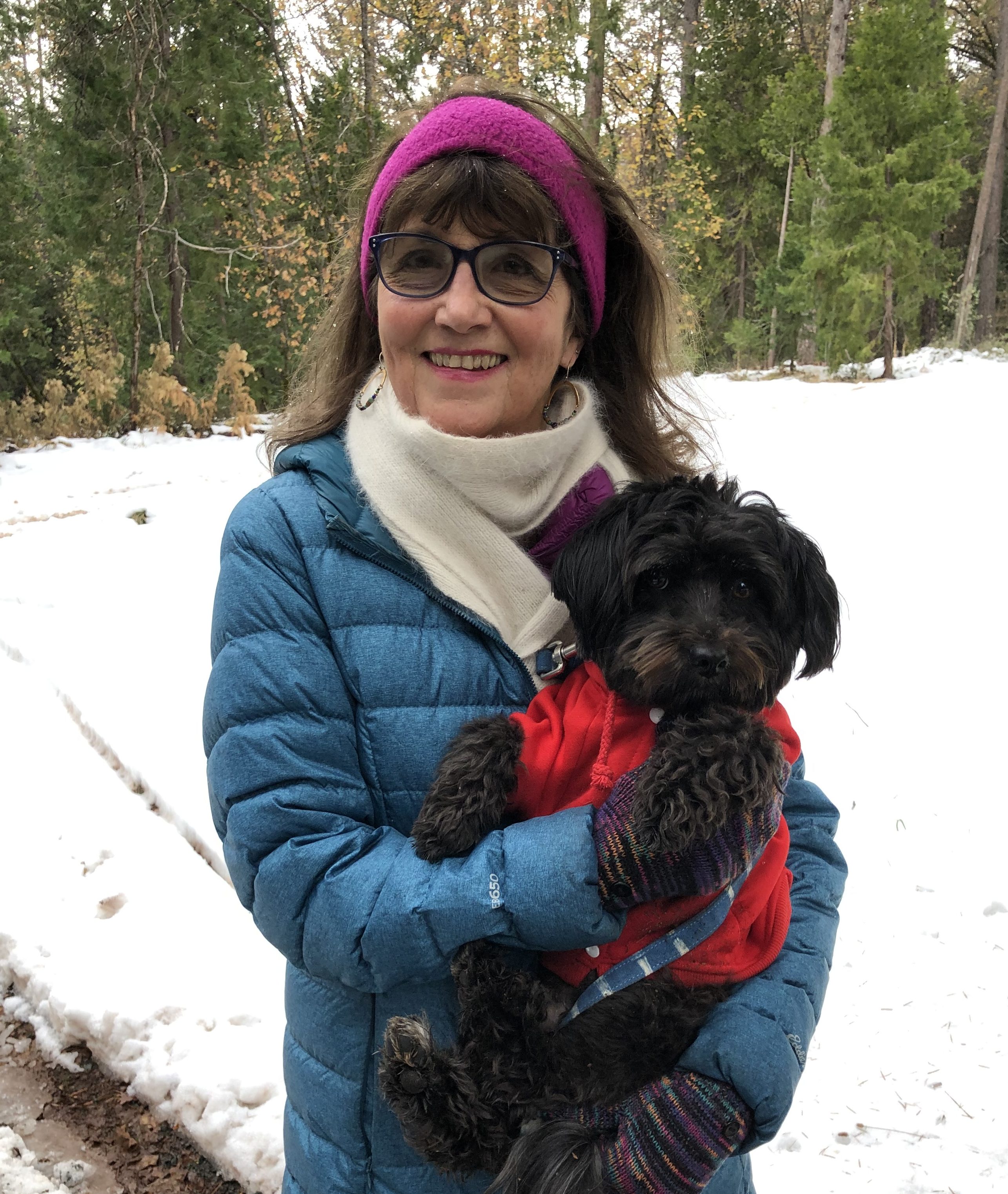 February Volunteer Spotlight: Tommie Conlen
Tommie Conlen has dedicated her time to our mission for almost a decade. She first heard about Hospitality House nearly 15 years ago when she went to a birthday party and had the honor of meeting the late-great, Utah Phillips. A few years later, she attended a donor thank you dinner and learned about our food group program, in which volunteers cook meals for our guests nearly every night of the year. She and a good friend soon formed an 8-person group which is now fully funded by students at the local Jazzercise (her other passion)!
Over the years, Tommie, like many of us, has seen the devastating impact of chronic homelessness. She recognizes how people often can't keep up with how fast the world seems to move at times and how vulnerable members of our community slip into a cycle that can be extremely difficult to break, especially without help and support.
Tommie also is a heartfelt member of our Hearts & Hands Club, giving monthly to further the efforts of Hospitality House and has a long history of giving back to the community. When asked why volunteering is important, she simply said, "It is part of being a good citizen of the world."
Thank you, Tommie! We appreciate your years of support and dedication as we work together to further our mission in helping our community members transition from homelessness to housing!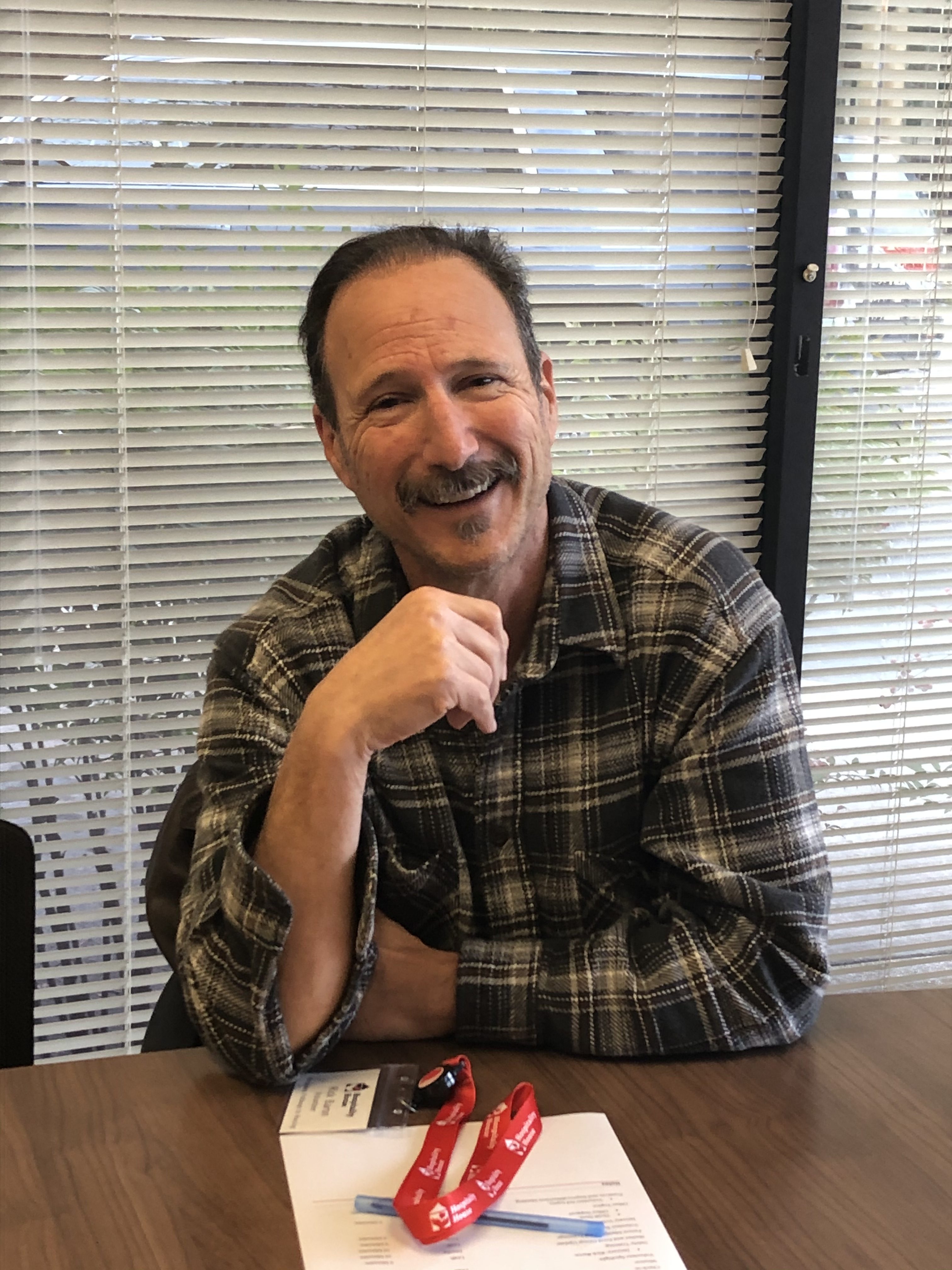 January Volunteer Spotlight: Rick Baron
Rick's life as a member of the Hospitality House family began many years ago when he volunteered overnight, back when Hospitality House operated as a nomadic shelter. These were the days when various local churches opened their doors and their arms to our community members experiencing homelessness night after night, 7 days a week, 365 days a year. Rick worked the shift few others would, arriving at midnight and leaving at 6 a.m., spending his evenings making sure our guests were able to get a good night's rest even though he would not.
In the years to follow, Rick spent time volunteering for other organizations and other communities, including in Southern California to give out food and later for four months to help our Paradise neighbors after the devastating fire.
Recently, Rick rejoined our team after hearing about the new pet program at our shelter. He became an invaluable member of our Volunteer Department Team, helping plan and manage the volunteer side of our most recent camp cleanup in October. Since then, he enthusiastically joined our Volunteer Event Leadership Team as we geared up for last month's annual fundraiser, Night of Giving. The success of Night of Giving largely rides on the backs of our robust volunteer staff which this year included over 100 unique individuals who filled 124 positions. We were able to successfully recruit and manage the volunteer side of this incredible community event because of Rick, his hours of pre-event office assistance, his innate ability to think outside of the box, and his fantastic team management style.
After the event, Rick was asked why he dedicates his time. He said, "I do it for my soul." He pointed out that the issue of homelessness is growing both in our community and throughout the nation and that the best way to address this issue is to, "be an advocate for humankind."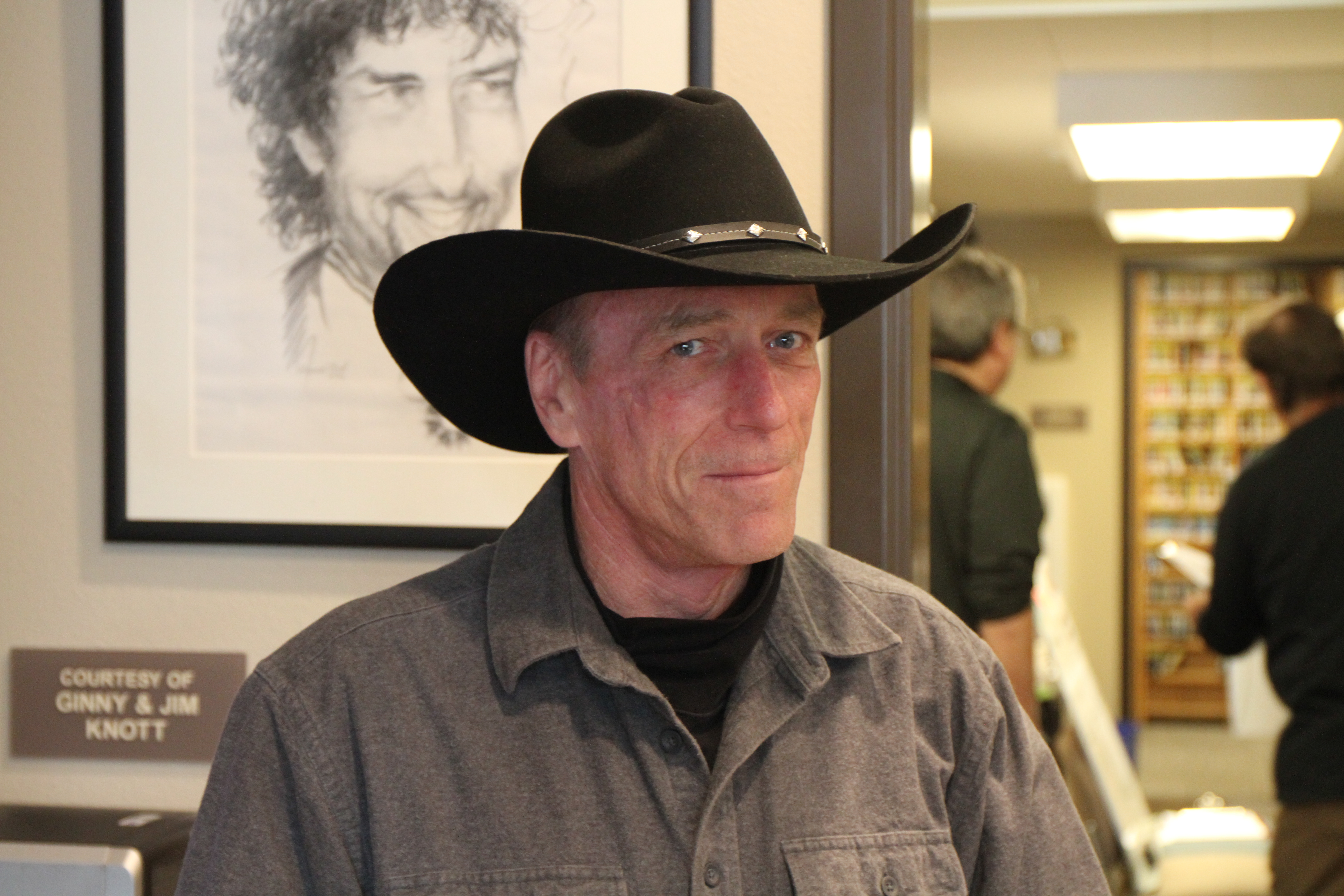 December Volunteer Spotlight: William Wallace
Many community members know William or at least part of his story.
William struggled with addiction for several years and his involvement with Hospitality House began while he was in the hospital recovering from a heartbreaking overdose. People from Hospitality House visited him in the hospital often and upon release, with no home or place to go, William went to Hospitality House on Dec. 11, 2013, which happened to be opening day of Utah's Place, our permanent shelter.
William received help and care at the shelter and has been housed and thriving ever since! When asked why he volunteers his time now, he says matter-of-factually, "Because volunteering is a community builder, no matter what community—even if it's out of the area helping people in a disaster. We are all one community helping each other; we are the building blocks."
Thank you, William. You are an invaluable member of our volunteer team.
Want to help your community like William? Then come and join Hospitality House's team of volunteers! We have many areas where you can help including at Utah's Place, Bread & Roses Thrift store, and in our office. Volunteering with us is a great way you can make new friends, while giving back to your community!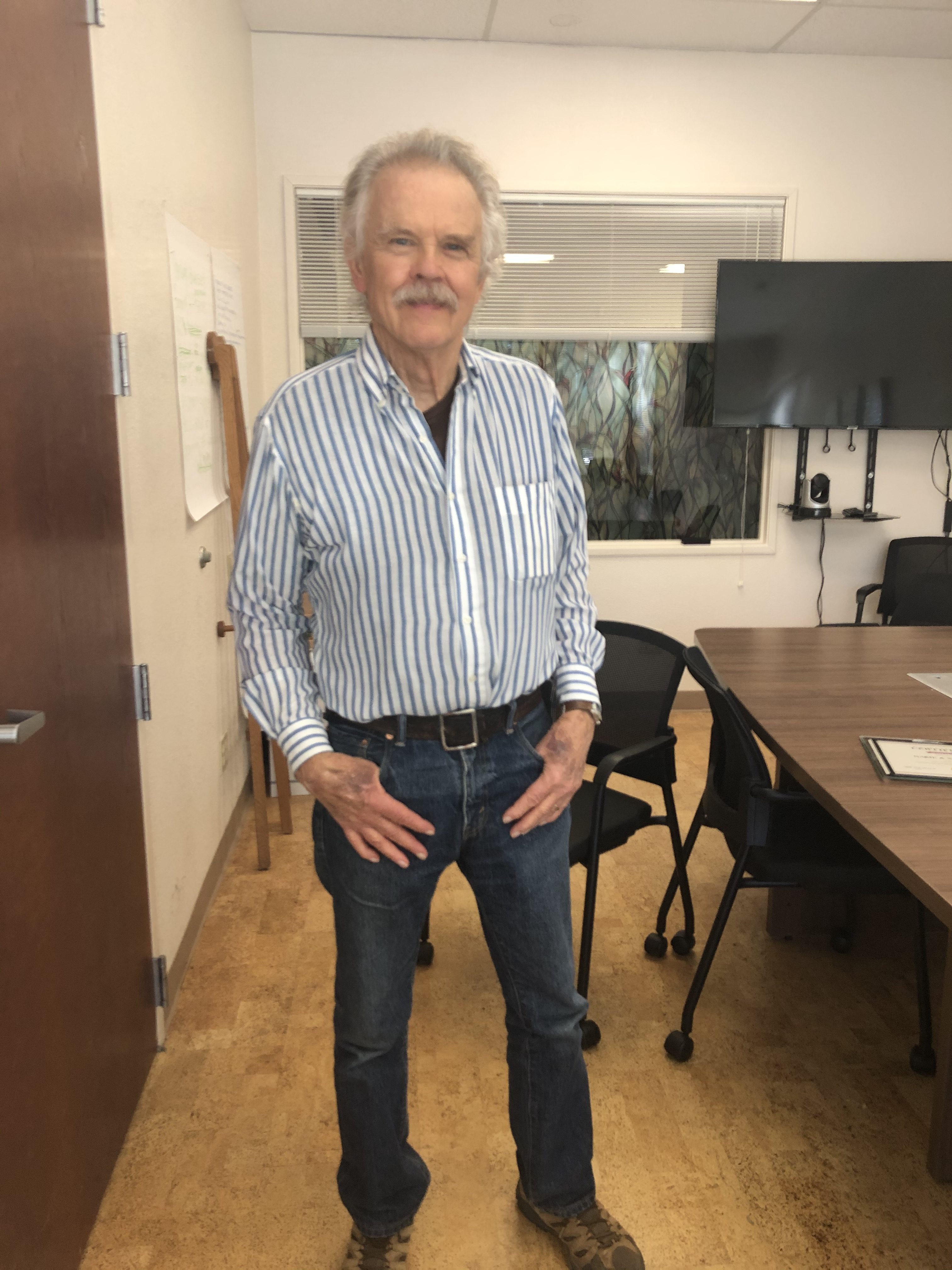 November Volunteer Spotlight: Rob Cairns
Four years ago, Rob was approached by his minister and asked if he would be interested in starting a new spiritual support program at Utah's Place. The group's only mission is a simple, although extremely valuable one, to listen. They are not there to pressure or to teach or to council or to advise – they are just there to sit and listen.
To no one's surprise, Rob said yes even though he had absolutely no idea what to expect or what to do. Announcements about Rob's arrival were made at the shelter in the preceding days, and to everyone's delight there were people lined-up waiting to talk to him that very first day. Since then, Rob has grown the program to a rotating volunteer staff of four that come into our shelter every Sunday to do what they do best, listen.
Rob was ordained as a minister through the Independent Church of the Essence and sees volunteering as a calling. As anyone who has the honor of spending time with Rob can clearly see, he is passionate about his work and does it from a deeply genuine place in his heart. When asked about how we should best try to address homelessness in our community, Rob's response was clear: "We have to address the entire person, the whole social situation; there is more to it than just connection to social services—it all comes back to sharing and having respect for people. We demonstrate that we are all worthy, that someone cares about us." Or more simply put, he says, "I see you, I hear you, I respect you, and I love you."
Well Rob, we see you and appreciate you. Your dedication to our guests and to Hospitality House over the years cannot be easily measured. It lives in a place that goes beyond words and beyond simple human understanding. We are truly blessed to call you a member of our Hospitality House family and are forever grateful for all that you do.
Want to help your community like Rob? Then come and join Hospitality House's team of volunteers! We have many areas where you can help including at Utah's Place, Bread & Roses Thrift store and in our office. Volunteering with us is a great way you can make new friends, while giving back to your community!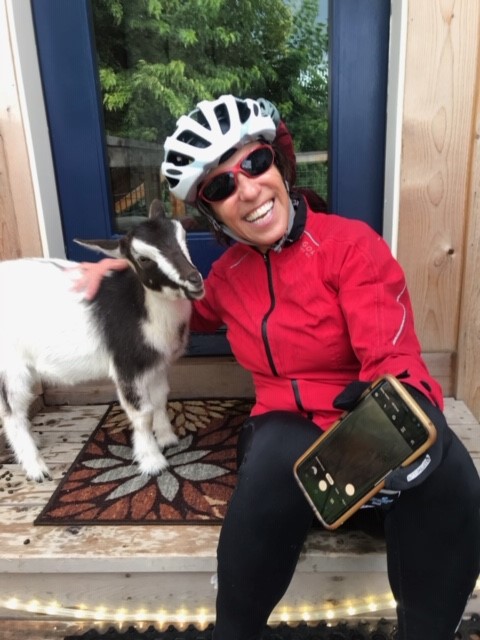 October Volunteer Spotlight: Teri Gevry
Over the last six and half years, Hospitality House has had the honor and privilege of having Teri on our volunteer team as a dedicated and passionate advocate. She first came on board as what we now call a Guest Advocate, working in our shelter. She currently serves as an Outreach Advocate, supporting women in our post-housing program.
Teri's story with Hospitality House began when she first heard a plug for a play at KVMR which many of us have come to know and love, called "A Place to Call Home." That evening, Teri went to the show at the Center for the Arts and had a conversation with a former Utah's Place guest, which changed the course of her life forever. As he shared the story of his journey, she began to appreciate the issues surrounding our homeless neighbors and embarked on her own journey to understand and address homelessness in our community.
Since that day, Teri has worked tirelessly to help Hospitality House further its mission of helping support members of our homeless community as they transition from homelessness to housing. Like so many of our volunteers, Teri dedicates her time to Hospitality House because she loves working with our guests.
"I get to help them on their journey, on their path," said Teri. "I love the fact that they have embraced me as I help them see a new vision."
Teri, your dedication to our guests is greatly and forever appreciated. Your strength and endurance as you help meet the needs of some of the most vulnerable members of our community is only matched by your passion and kindness. Thank you for all that you do!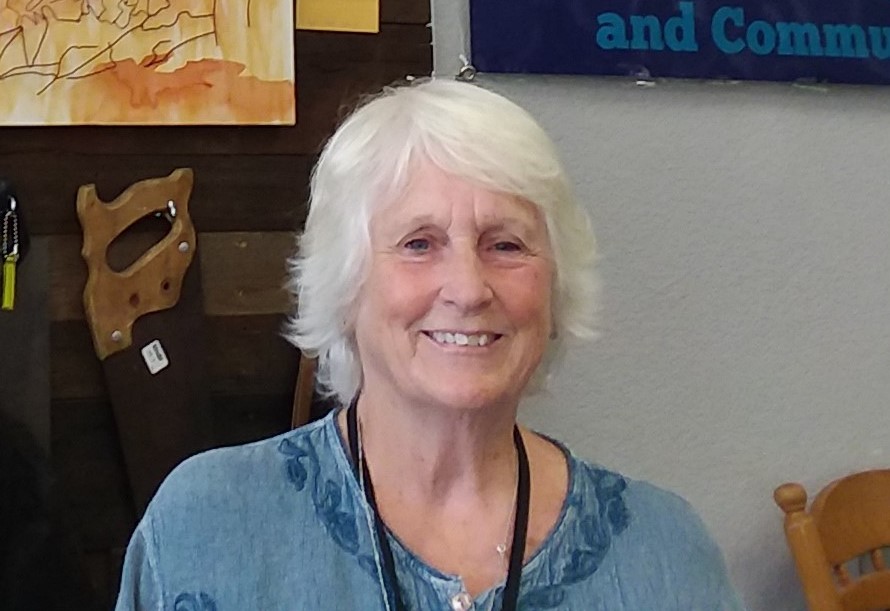 September Volunteer Spotlight: LuAnne Myers
Anyone who has had the honor of meeting LuAnne, knows just how dedicated she is to Hospitality House and our mission. LuAnne started volunteering with us at Bread & Roses almost two years ago, following a long career as a school counselor.
Her years of working with students from a wide range of backgrounds has given her a unique and beautiful perspective on the world which she carries with her every day. All it takes is a single conversation with LuAnne to see just how much she cares about helping our guests, fellow volunteers, and greater community.
As she puts it, "I am here because I have been very lucky to have people in my life who have helped me, and now I can help others who need a hand up."
We are very fortunate to have LuAnne on our team and appreciate all that she has done to help further our mission of assisting those who are experiencing homelessness in Nevada County as they transition to housing. With a great deal of gratitude, we thank you, LuAnne, for your dedication and hard work.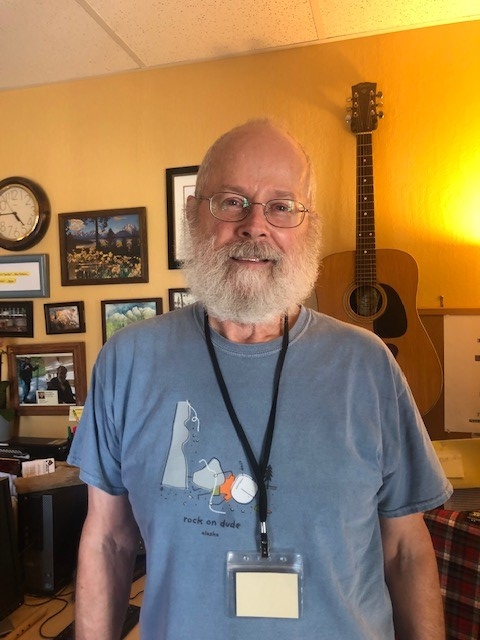 August Volunteer Spotlight: George Dunstan
George began volunteering at Hospitality House in 2005 when it was a nomadic shelter. He vividly remembers when guests and volunteers used to meet at the Welcome Center, and a bus would pick them up and take them to a designated church for the night. George has volunteered every week nonstop for 14 years as a shelter advocate (formally monitor). He helps with guests' immediate needs, such as providing clothes and toiletries, dedicates time to talk to guests, and has helped with the installing of beds for the Onward Dorm and in many other countless areas.
"I wanted to be part of this community," explained George. "I like having person to person contact and interacting with people. It makes it more meaningful and having direct contact with people is fulfilling. It's what I do on Thursdays and I have built friendships with staff and other volunteers. Volunteering for Hospitality House has become part of my life. It keeps me going and I look forward to it every week."
His dedication to our guests and Hospitality House's mission to bring homeless people in Nevada County into a circle of community caring that offers shelter, sustenance, and care as we assist them in transitioning from homelessness to housing is such a blessing. Thank you, George!
People volunteer with Hospitality House in a variety of ways, and we're always looking for new volunteers who can help further our mission and services. If anyone has an interest in learning more about volunteer opportunities, we welcome you to contact Leah Farkas, our new Volunteer Manager at 530-615-0805 or get started now>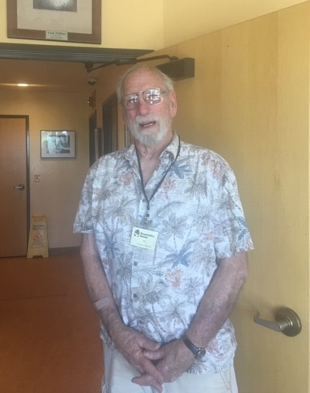 July Volunteer Spotlight: Bill Blount
We are so grateful to Bill; he has volunteered as a shelter advocate (aka monitor) since the beginning of our shelter. He has tirelessly shown his commitment in helping our homeless neighbors by volunteering every Thursday for four hours and supporting our shelter advocates in the Onward Dorm.
"He is always there for us, and I never have to worry if he is going to show up or not," said Janella Kirkman, Shelter Supervisor.
Bill makes sure that guests have towels, toiletries, blankets, or anything that is needed to accommodate our guests that night. Bill also has conversations with our guests, creating strong bonds and trust between them.
"He is here for the cause, and that is why he has been with us for so long, because he truly cares. He is also here to help others, not only the guests but our staff who deeply appreciate his ongoing support," said Kirkman.
Thank you, Bill, for helping everyone you meet, and for your faithful commitment through the years. We are blessed to have you as our super star volunteer!
If you'd like to join our shelter volunteer team, we're always looking for wonderful people to join our crew. Get started>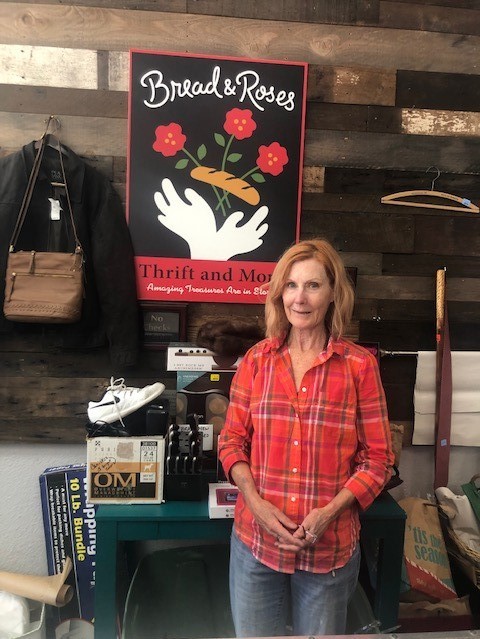 June Volunteer Spotlight: Karen Steffa
Karen Steffa joined the Bread & Roses Thrift and More team six months ago, and she's been an asset ever since.
"Karen has been absolutely amazing!" explained Store Manager, Miranda Stuart. "She always has a smile on her face and is so unbelievably humble."
Karen's dedication to the team has been steadfast, but following the loss of a fellow colleague, Karen stepped up to fill the void, and extended her volunteerism to three days a week, tackling merchandising, processing and acting as a backup cashier.
"The staff often say they don't know what we would do without her," added Stuart.
Thank you, Karen! We appreciate your devotion and leadership to make our store a success!
If you'd like to join our crew at Bread & Roses, we're always looking for wonderful people to join our team. Get started>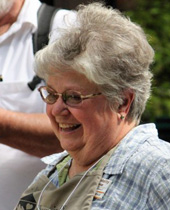 May Volunteer Spotlight: Mary Liebke
Mary Liebke is a loyal volunteer who has been a major part of the Hospitality House story from the start.
"I've been volunteering since the beginning when my church (Grass Valley United Methodist) vowed to start it," she recalled. She explained when she left church that day, she and fellow church members found a homeless woman sitting outside on a bench with no where to go. They knew then with certainty that they made the right decision and together, they rallied their money to provide the woman temporary shelter in a local hotel.
From there, Mary's journey with Hospitality House only grew and she later helped open the welcome center and launched the Lunch Bunch crew—a group who made lunches every day to help local homeless individuals in need, but she recalled it wasn't always easy. Many days they worried they wouldn't have enough food for the families and individuals who were hungry, homeless, and needed help.
"We'd pray for food for lunches and it would always come," she said.
When Utah's Place opened in 2013, Mary was eager to help. "I was there every night for the first few months of the dinners to help people," she recalled.
Today, the culinary kitchen is named in her honor and she continues to lead every volunteer cook team at Hospitality House.
"Mary Liebke is a stone in the ever-changing sea of humanity that is our shelter," said Isaias Acosta, Program Manager. "She is foundational in the greatest sense and without her, like the keystone of a building, so many things would lack the support to stand. Her commitment to the mission of Hospitality House, and her support of myself and the food teams through straight forward communication and practical decision making demonstrates the power of resolve when there is nothing else but the will to do what is right. She is a paragon of virtue, and someone who is of the highest quality. It's through her consistent attention to putting everything in its place that the miracle of the food group calendar comes together without so much as a gap. Mary's ability to find the right person, or team, to fill the next gap when the time comes for teams to move on is the stuff of legend. There is no discounting the amazing work our food providers and other volunteers do but every stone needs its mortar, and Mary is the divine instrument which holds our house in order. Thank you, Mary, I appreciate you more than you know."
From all of us at Hospitality House, thank you, Mary!
Learn more about volunteer opportunities at Hospitality House>
April Volunteer Spotlight: Liz McGuire
Liz began volunteering at Bread & Roses in June 2017, working there four days a week, on average three to four hours per day to help ensure the store's success—that's approximately 1,472 hours donated to date! Last month, when Liz learned the administrative office needed help, she jumped at the opportunity to give further.
Having Liz on our team is wonderful," said Frank Gates, Volunteer Manager. "She proves time and again her dedication to Hospitality House and its mission to bring homeless people in Nevada County into a circle of community caring that offers shelter, sustenance, and care as we assist them in transitioning from homelessness to housing.
Liz now volunteers in the admin office two days a week, in addition to volunteering at Bread & Roses three days a week as well. Be sure to say hi to Liz the next time you're shopping.
From all of us at Hospitality House, thank you, Liz! We appreciate you!
Volunteer Opportunities
Interested in joining the amazing volunteer team at Hospitality House? There are several areas of need, and you can make a difference like Liz. If you'd like to learn more about volunteering, contact Frank at 530-615-0805 or by email at frank@hhshelter.org.
March Volunteer Spotlight: Margaret Little
In the wet, cold winter of 2004, a small group of concerned residents gathered to discuss their dream of helping the many homeless people in western Nevada County by providing shelter and food during the winter months. Margaret Little was among this small group who helped start Hospitality House.
After 15 years of committed volunteer work, Margaret is still serving homeless neighbors in Nevada County. She has served as a board member for Hospitality House; she currently volunteers at Bread & Roses Thrift and More twice a week; and she helps at fundraising events every single year to benefit the shelter.
Margaret is committed to the mission of Hospitality House and its efforts to bring homeless people in Nevada County into a circle of community caring that offers shelter, sustenance, medical care, advocacy, opportunity, dignity, and hope as they transition from homelessness to housing.
Thank you, Margaret, for being a pioneer of the only emergency shelter in Nevada County; for tirelessly giving back to your community; and for never leaving a homeless neighbor behind.