13th Annual Empty Bowl! March 23, 2019!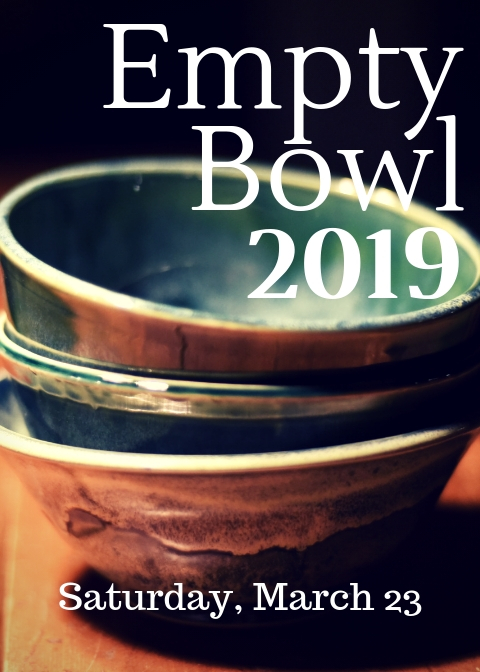 Last Years- 12th Annual Empty Bowl was a Great Success! Thank you!
Thanks to all who attended; together you covered 687 shelter beds for our homeless neighbors!
Other fun facts about the fruits of your labor and participation:
Approximately 650 attendees arrived to a lovely collection of donated, hand-made ceramic and wooden bowls.
Those beautiful bowls were filled up with 98 gallons of different varieties of soup.
63 beautiful, hand-made items ranging from bowls and platters to a tool box, were sold at the silent auction.
Our photography team took 73 awesome portraits that can be viewed marioncharlottephotography.com .
The Empty Bowl event was inspired 12 years ago by local and talented potters, working together to create beautiful bowls, to donate and raise funds for Hospitality House.
This year's group of Talented Artisans consisted of:
Chic Lotz, Dik Hotchkiss, Liz Conley, Karen Tanaka, Bob Davis, Alika White, Chic Lotz, Mindy and Roger Oberne, Yvon Dokter, Paul Steege, Penny St. Clair, George Schroder, Rene Sprattling, Carlos Angulo, Pickle Pottery, Steve Danner, the Gold Country Woodturners and many other artists!
All 700+ bowls were hand washed prior and after use by:
Kathleen Kelly, Ruth Hochman, Valerie Stuart, Rose Schulman, Mikayla Mitchell, Savannah Delgado, Alika White
The stunning Silent Auction was artistically arranged by:
Mindy and Roger Oberne, and Chic Lotz
Soup, Soup and more soup, accompanied by that comforting bread, was carefully crafted by:
Tommie Conlen, Beverly Werntz, Judy Olson, Maria Dicentio, Bill Rash, Jo Naranjo, Diane Petty, Drew German, Mitzi Phillips, David Pistone, BJ Forster, Susie Erntz, Joanna Weiss, Yvonne Turner, Margaret Currier, Linda Phelps, Caitie Dalzell, Betsy Abrams, Kay Pontius, Stephanie Mandel, Barbara Terhorst, Linda Katz, Myrna Heppe, Dom Jackson, Susanna Wilson, Bob Norman
Local Restaurants donating soup and/or bread: Thirsty Barrel Taphouse & Grill, BriarPatch Cooking School, California Organics, BriarPatch Food Co-op, Matteos Public, FudenJuice, Ike's Quarter Cafe, Sopa Thai, Old Town Cafe, Three Forks Bakery & Brewing Co., SPD/Truckee Sourdough, Dupres Bakery,
All those heavy buckets of soup from the generous restaurants were picked up and delivered by:
The kitchen was skillfully managed by:
Cissy Murphy and her team from Abundant Life Church for the lunch sitting
Todd Wells and his team of Dom Jackson, Jim Ehlers, Jerry Murphy, and some other on-the-spot volunteers who stopped to help.
Cleaning up all those pots, pans and endless spoons for what probably seemed like hours on end we had:
Jim McCririe, Rob Schulman, John Bilheimer, Stan Sanderson, and Jim Ehlers
An awesome setup team arrived early to place tables, chairs, signage and all those random miscellaneous things that were left at the last minute. These fine folks were:
Vee Proietti, Luanne Myers, Aiden Browning, Abigail Kistie, AJ King, William Wallace
The entry process and dining floor were expertly kept running smoothly by:
Pat Forman and Laurel Vieaux at lunch
Flo Farenheit and Deborah Cohen at dinner
Drinks and Dessert were kept flowing by:
Vee Proietti, Wanda Dwyer, Catherine Allen, Julia Stauffer
Serving bread and bussing tables was swiftly carried out by:
Janie Kesselman, Claudette Paige, Aiden Browning, Lauren Alderdice, Anthony Pritchett, Lian Trowbridge, Linda Leith, Shelley North-Gerson
Silverware was wrapped up made ready to go by:
Hospitality House Board members skillfully greeted attendees, managed finances, and sold tickets:
Kathy Mollet, Bobbie Swanson, Mark Vieaux, Trish McPhee, John and Dee Murphy
Our volunteers were greeted and directed, which is no small task, by:
Lori Abbott and Maya Knowles
Soup Service with a Smile was provided by:
Bob and Anne DeSanti, Cathy Gilman, David and Carole Morris, Debra Ramirez, Jennifer Weir, Nancy Hill, Charmaine Dedevoir
Bistro 221 and The Stone House donated bountiful raffle prizes that were raffled off swiftly by:
Lorra McCririe, Sharon Delgado, Alex Delgado, Savannah Delgado, Malina Mitchell, Nikayla Mitchell, Kris Johnson
Our sweet tooth needs were satisfied by these bakers who baked over 1000 finger food delights:
Betsy Abrams, Stan Bear, Betty Chicourrat, Tommie Conlen and her Jazzercise team, John Drew, Francene Holland, Ruth Hochman, Kathleen Kelly, Meghan Salter, Roberta Swanson, Diane Petty, David Pistone, Beverly Werntz, Susanna Wilson, Kris Vasser, Stephanie Mandel, Laura Ines
All the sweets were artfully arranged by:
Thank you to Fred Skeen, Michael McDonald for being wonderful MC's and also to our guest speakers who courageously shared their stories.
The sound system and platform were knowledgeably set up and operated by:
Keeping the Whiteboard Menu up to speed with precision and accuracy was:
Lauren Juric and Magdalena Curtis
Working out in the frigid cold keeping the parking lot organized:
Etan Griscom and Daun Sees
Transportation of guests and goods was performed by:
William Wallace, Craig and Laura Rohrsen and Colleen Morris
The event costs were underwritten by these generous local companies:
BriarPatch, Telestream, SPD Markets, Northern California Mortgage, Peters' Drilling & Pump Service, YubaNet, Port of Subs, Nevada County Association of Realtors, KVMR, KNCO, The Union, Peace Lutheran Church and Ace Propane.
Pop-up Volunteers who swooped in at the last moment to help where needed were:
Teri Gevry, Katherine Heuer, Mary Lehmberg, Lita Stone
Dedicated Dishwashers: James Ehlers, Stan Sanderson, John Bilheimer
These Talented Creatives worked behind the scenes, in front of computers, tickling the ivory, and behind the camera to make Empty Bowl the beautiful event that it is:
Kathy Dotson, Dee Anne Dinelli, Tom Durkin, Charlotte Peterson, John Taber, Heather MacAdams and Dan Scanlan, Vadi, Jahllah Koch, Yumaly Mota-Soberanis
And the sight we were all grateful for at the end, was the arrival of the Cleanup Crew:
John Murphy, Bailey McNew, Lauren Alderdice, Taylor Seim, Lincoln Cook, Dom Jackson, Shelby Smith, Caleb Eli, Jose Bermudez, Emma Honegger, William Wallace
Thank you to all the schools who supported this event by sending student volunteers:
Ghidotti, Grass Valley Charter, Sierra Academy of Expeditionary Learning
THANK YOU! THANK YOU! THANK YOU!