Empty Bowl is Back, Sept. 7-21
Artist- & restaurant-driven benefit for those without a home
Tickets on sale early August!
17th Annual Empty Bowl Set for September 7-21, 2023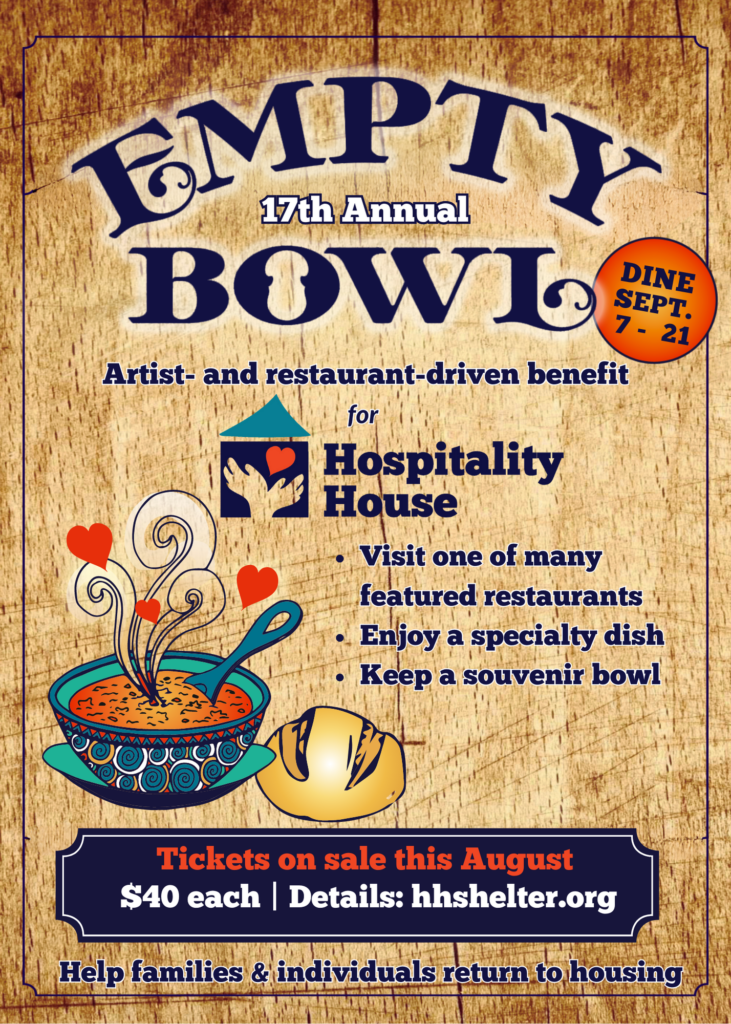 Back by popular demand, Empty Bowl is back this September! This hometown favorite event is an annual fundraiser benefitting Hospitality House that takes place this year Sept. 7-21, made possible by local artists, restaurants and business sponsors.
Ticketholders will soon have an opportunity to choose in advance which restaurant they would like to visit based on the restaurants' schedules and specific meal offering. At each restaurant, patrons will receive an artisan bowl to keep forever (donated by the artists) that is filled with sustenance (a delicious meal donated by each restaurant). Every dollar received from Empty Bowl ticket sales is a donation toward Hospitality House's emergency operations and every dollar makes a difference in someone's livelihood. In our last fiscal year, 718 unique locals were served but more help is needed
Featured Restaurants – Coming soon!
A list of participating restaurants will be shared soon, along with their delicious Empty Bowl meal. Ticketholders will buy ticket(s) to the restaurant of their choosing and can dine between Sept. 7-21 (days/times vary by restaurant). The best part? You get to keep the bowl! For more information, please see the commonly asked questions below, or email: info@hhshelter.org.
Event Sponsors Needed
Want to sponsor this event? Call 530-615-0852 or email: info@hhshelter.org for an event sponsorship kit!
FINE PRINT
*A limited number of tickets will be available for each participating restaurant. Tickets MUST be purchased in advance in order to be redeemed at participating restaurants. Each restaurant has restrictions in place when tickets can be utilized. Each restaurant is featuring a specialty dish of their choosing. Days/times/meals will be announced on hhshelter.org by August 2023 or sooner.
Because each restaurant is donating their own signature dish and staff time to make Empty Bowl possible, we kindly ask that all ticketholders, PLEASE, patronize these restaurants by purchasing appetizers, drinks, desserts and more. Like many in the community, they've been affected by the pandemic, on top of a workforce shortage, so Empty Bowl is an opportunity to not only help struggling homeless Nevada County residents by purchasing a ticket, but also serves as an opportunity to stand strong behind our restaurant community by purchasing delicious additions at each participating restaurant.
Commonly Asked Questions:
What is this event about?
Empty Bowl is an artist- and restaurant-driven benefit for Hospitality House. Dozens of artists create and donate beautifully handcrafted ceramic and wood bowls to fill with sustenance. This year, that sustenance is filled by local restaurants who are also donating the food and their staff time to make the event possible.
Empty Bowl is an opportunity to help people experiencing homelessness get back on their feet. Sharing a simple meal is an opportunity for our community to express its compassion for those who are homeless and hungry. Every dollar received from Empty Bowl is a donation toward Hospitality House's emergency operations and every dollar makes a difference in someone's livelihood.
When will tickets go on sale? 
Early August 2023 (details will be finalized summer 2023). Check back soon!
Where can I buy tickets?
Tickets are only available for online purchase this year. They will be available on this page and the homepage of hhshelter.org once available.
What does my ticket include?
1 ticket = 1 donated artisan bowl you'll get to keep forever + 1 meal
Meal types vary by participating restaurants. Drinks, appetizers, entrees, desserts, etc. are all extra and are not included with your ticket purchase. 
Do I get to pick out my own bowl? 
This answer varies by each restaurant. Some restaurants are having a "masked" experience, meaning your bowl will be a surprise. Others will offer a small selection for you to choose from at your table. A few are hosting displays to pick and choose from as you arrive.
I only want a specific artist's bowl for my collection. Where can I find out where my favorite artist's bowls will be?
All bowls will be scattered across all participating restaurants. There is no guarantee that an artist who participated in years' past will choose to participate again this year (all artists graciously donate their bowls, time and talent). While Hospitality House will do everything in its power to ensure equal distribution of artist variety to all restaurants, because the event takes place over two weeks, bowl varieties and specific bowls by specific artists are not guaranteed to ticketholders.
Which restaurants are participating and what meal is being served?
There will be a list of participating restaurants and their featured dishes released in summer 2023–please check back. Food offerings will vary by restaurant. Patrons with a ticket will visit their selected restaurant to receive a meal served in an artisan bowl. Since restaurants are donating food for this event, patrons are encouraged to purchase additional menu items while on the premises. Empty Bowl will be hosted at restaurants September 7-21, allowing you to support multiple restaurants if you'd like, increase your contribution to Hospitality House, and acquire an impressive collection of artisan bowls.
Am I required to buy more food/drinks at my selected restaurant? 
No, but we appreciate you patronizing each restaurant as best you can. Restaurants have been hard hit by the pandemic, along with the greater community. With the affordable housing crisis landing on the heels of the pandemic, more people are at risk of experiencing homelessness (up 15% from last year), the full price of your Empty Bowl ticket goes to Hospitality House and will provide food, shelter and services to homeless individuals in Nevada County. After you redeem your ticket, your purchase of additional food or drinks supports your favorite or newly discovered restaurant. Show local artists that their work is making a difference by keeping one or more beautifully created bowls and unite as a community to help local restaurants and individuals in need.
Do I have to tip if I dine in or take my bowl to go? 
Restaurants are participating out of the kindness of their hearts with nothing received in return. As such, tipping is greatly encouraged. Each restaurant is donating their staff time and food to participate in Empty Bowl. It is a huge help if you are able to show your appreciation for them by tipping your server and purchasing add-ons.
Are reservations for dining required?
Each restaurant has their own set of rules for Empty Bowl, including dates and hours of participation. When tickets go on sale, all stimulations will be posted.