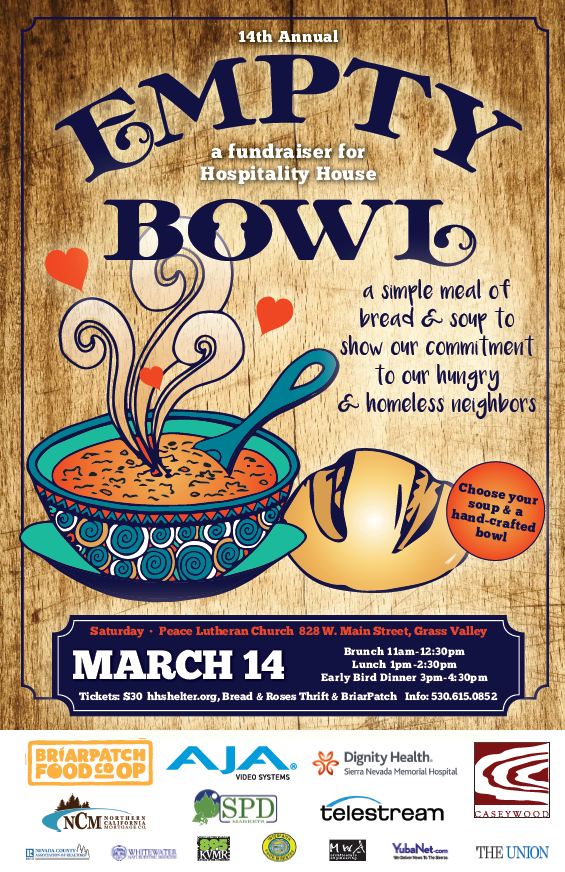 Update 3/16/20: We are closely monitoring updates and safety recommendations regarding COVID19. The earliest Empty Bowl will be rescheduled is April 2020. All tickets will be honored on the new date.
Update 3/12/20: Empty Bowl is postponed. Read details here.
Dozens of artists create beautifully handcrafted bowls to fill with soup for the Hospitality House Empty Bowl benefit. This event is a community effort to raise awareness and support for local homeless individuals in need. Every ticket sold supports guests at the shelter, and those in attendance will hear from a few guests, including their experiences with homelessness.
Sharing a simple meal of soup and bread is an opportunity for the community to express its compassion for those struggling with homelessness. Attendees of the event will have a variety of soups to choose from, including vegetarian and a vegan option. Soups will be prepared by homeless students and graduates of the Hospitality House Serves culinary job-readiness training program—a program led by Chef Chris Fagan, an award-winning chef who competed in the Culinary Olympics in Frankfurt, Germany, alongside top chefs around the world, and who is a two-time champion of the Sam Choy Poki Contest.
In addition to sharing a hearty bowl of soup with friends, all attendees will keep a bowl of their choosing as a reminder of those they are helping—all bowls are handmade and graciously donated. The Gold Country Woodturners collaborate with The Curious Forge to hand-turn 75 wooden bowls, while renowned artists Dik Hotchkiss, Chic Lotz, Yvon Dockter and many other potters will donate beautiful ceramic soup bowls, plus large ceramic and wooden bowls for the silent auction.
This event will take place on Saturday, March 14 with the seating options of Brunch from 11a.m. to 12:30 p.m., Lunch from 1 p.m. to 2:30pm or Early Bird Dinner from 3 p.m. to 4:30 p.m.  Tickets cost $30, this includes a handcrafted bowl, soup and drinks, and will go on sale in February 2020, online at hhshelter.org, at BriarPatch Food Co-op, at Bread & Roses Thrift & More, and at the door while supplies last. Children under age 12 will be admitted free but will only be eligible to receive a bowl with a paid ticket.