Take A Tour
All tours suspended throughout the pandemic
2020 Tour Schedule
All tours have been suspended as a result of the pandemic. Tours will resume on the first Thursday of every month at 9 a.m. once it is deemed safe to do so. Hospitality House does not anticipate offering any tours for the remainder of the 2020 year. Please check back in 2021.
Hospitality House Introduces Monthly Tours to the Public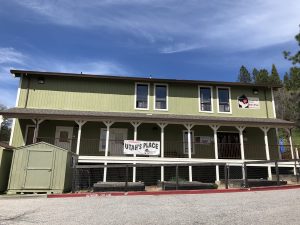 Hospitality House is the only emergency homeless shelter in Nevada County, and beginning May 2, the public is invited every month to learn more about its operations and services.
"This is an opportunity for the public to gain first-hand knowledge of our homeless shelter," explained Nancy Baglietto, Executive Director of Hospitality House. "Attendees will have a chance to tour the ins and outs of the shelter, to see the dormitories, and to learn more about homelessness in Nevada County and our efforts to alleviate it."
Tours will begin promptly at 9 a.m. on the first Thursday of every month, except in the event of a holiday.
2019 Tour Schedule:
May 2, 2019
June 6, 2019
July 11, 2019
Aug. 1, 2019
Sept. 5, 2019
Oct. 3, 2019
Nov. 7, 2019
Dec. 5, 2019
Tours are expected to last 30 to 45 minutes in duration, depending upon number of attendees and questions. RSVPs are encouraged 24 hours or more in advance, but drop-ins will be accommodated. The shelter, known as Utah's Place, is located at 1262 Sutton Way, Grass Valley, CA 95945.
To RSVP, please call or email Ashley Quadros, Development Director, at 530-615-0852, or email ashley@hhshelter.org.