Empty Bowl – March 7, 2015
Thanks to All for Another Successful Empty Bowl
Many thanks to the generous people who contributed to the tremendous success of the 2015 Empty Bowl benefit. We netted $22,684.98, more than we've ever raised before at this annual event. Our success depends entirely on the potters who work all year to create their gorgeous handmade bowls; we know that for them it's a labor of love, and we salute their creativity, compassion, and magnificent generosity. Mentioning all of them by name—as we would like to—is impossible because so many donate anonymously, their bowls appearing like beautiful little foundling children on the doorstep of Karin Givon, who has been organizing potters and exhorting them to redouble their efforts for the past many years. Special thanks to her for that, and for getting all the bowls to the church on time!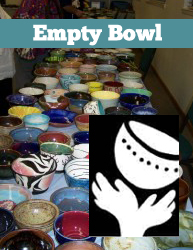 Special thanks this year go to three anonymous donors, whose generous matching funds were responsible for breaking past fundraising records. Several other important events, including the memorial service for our friend, storyteller Steve Sanfield, took place simultaneously with the Empty Bowl this year, and our attendance was down. We would not have done so well without our matching donors, whose generosity inspired the generosity of others. We offer deep thanks to all.
We had eleven sponsors this year as well. These are businesses that donate money up front to help defray costs. Let's show our appreciation by supporting them in any way we can.
They are:
Another triumph this year was having enough soup and bread for everyone to have seconds. Many of our local restaurants and bakeries made this happen, and they, too, richly deserve our patronage.
They are:
Alyson
Christy Paul
Vee Proietti
Jerri Glover
A few individuals also made and donated 5 gallons of delicious soup, which is a lot of soup for one person to make! Hats off to Alyson Ridlon, Christy Paul, Jerri Glover, and Vee Proietti.
We're eternally grateful to our magnificent host, Peace Lutheran Church, whose staff and congregation are always so helpful and welcoming. Peace Lutheran has been partnering with Hospitality House for ten years now in many capacities— offering their beautiful space for the Empty Bowl is but one. No words can express our gratitude for all they've done to further the shelter's work.
Music in the Bowl Room was organized by Heather MacAdam, who is a superb organizer of music and a fine singer and guitarist! Thanks to her and to Nevada County concert band saxophonists Cheryl Woldseth, Jan Woldseth, Julie Gustafson, and Mary Whitmore; harpist Lisa Stine; and flutist Phyllis Grant.
We offer special thanks to three businesses that have helped us many times, with this event and others: Linda Hempel's postering service, The Real Graphic Source, and Grass Valley Sign Co.
Marion Peterson was our official photographer and has agreed to fill that role for the organization ongoing. That's a huge blessing for which we're deeply grateful.
Last but far, far from least are our volunteers, too numerous to name. They're  the absolute and utter best! Blessings to them for their commitment and their cheerfulness in the face of sometimes very hard work (like hauling big buckets of soup, slaving over hot stoves for hours, swabbing kitchen floors, and holding signs over their heads for impossible lengths of time (that would be our calligrapher Sandy Gold)). Cissy Murphy has been managing kitchens for Hospitality House for years, and did so at this event while recovering from knee surgery. Pinky Zalkin, who has organized the entire event in years past, paved our way, and we couldn't have been successful without her guiding spirit and copious notes.
If you would like to sponsor this event next year or donate pottery bowls, please email joanna@hhshelter.org or you can call her at (530) 615-0852  for more information. Please include your telephone number and a good time to reach you.