SAVE THE DATE: Empty Bowl April 1, 2017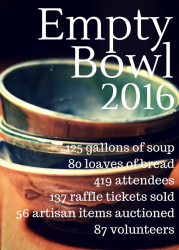 Many thanks to all the generous people who attended the Empty Bowl benefit this year and contributed to its tremendous successs. We netted $24,711.08, more than we've ever raised before at this event. The Empty Bowl depends entirely on the artists who work all year to make their gorgeous handmade bowls: especially the Gold Country Woodturners, Yvon Dockter, Dick Hotchkiss, Mindy Oberne, and Chic Lotz who made 100 bowls each.
A special thanks to our business sponsors: KVMR, Peace Lutheran Church, Telestream, Peters Well Drilling, California Solar, Nevada County Association of Realtors (who also volunteered at the event), Janet Peake, Port O Subs, Nevada City Chevron, California Solar, Grass Valley Chevron, Higgins Diggins Lions Club.
Deep gratitude to Mary Liebke for organizing our soupmakers (including our very own culinary team) and to all of our 87 event volunteers, for their sometimes very hard work (like hauling big buckets of soup, slaving over hot stoves four hours, swabbing kitchen floors and holding signs.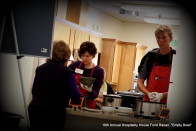 And the generosity of six anonymous donors spurred an additional $3500 in matching
Thank you to our generous local sponsors!
Janet Peake
Kathy D Designs