Empty Bowl – March 8, 2014

"We are pleased to announce the 2014 Empty Bowl was a great success!" reported Pinky Zalkin, event organizer.
On March 8, 2014, over 640 people gathered at Peace Lutheran Church in Grass Valley.
Together, they raised more than $18,000 to help Hospitality House continue its efforts to end homelessness though Utah's Place and the HH rehousing program.
The highly popular Empty Bowl community meal of soup and bread (and dessert) has flourished because of the once-a-year opportunity of taking home a unique, handmade soup bowl made by one of the scores of talented local potters who donate bowls every year.
Many of the bowls are donated anonymously, but we're delighted to gives thanks to long-time "bowlers" Karin Givon, Chic Lotz, Yvon Dockter and Richard Hotchkiss.
Of course, this event couldn't have happened without the outstanding generosity of this year's sponsors, donating businesses and individuals, and musicians for your dining pleasure.
Thank you to our sponsors!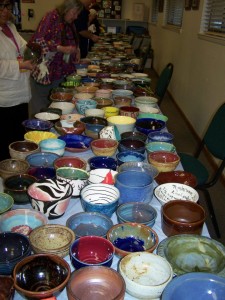 Janet Peake, Crown Financial
Lin Donald
Thank you to all of the local potters who contributed bowls to this year's event
Thank you to the generous businesses and individuals who provide the in-kind donations that make the Empty Bowl possible
Thank you to all of the wonderful musicians generously donating their time to this year's event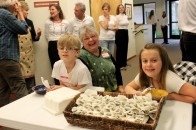 Last, but certainly not least, we extend our utmost gratitude to the more than 100 volunteers who make the Empty Bowl possible every year.
Hospitality House provides year-round shelter, housing placement, and outreach for homeless Nevada County community members. It's a big job and we need your help! Please consider making a donation. And please consider making that donation monthly.
Mark your calendars for next years Empty Bowl – March 7, 2015.
If you would like to sponsor this event or donate pottery bowls, please email pinky@hhshelter.org or you can call her at (530) 205-9363 for more information. Please include your telephone number and a good time to reach you.
For more information contact us.