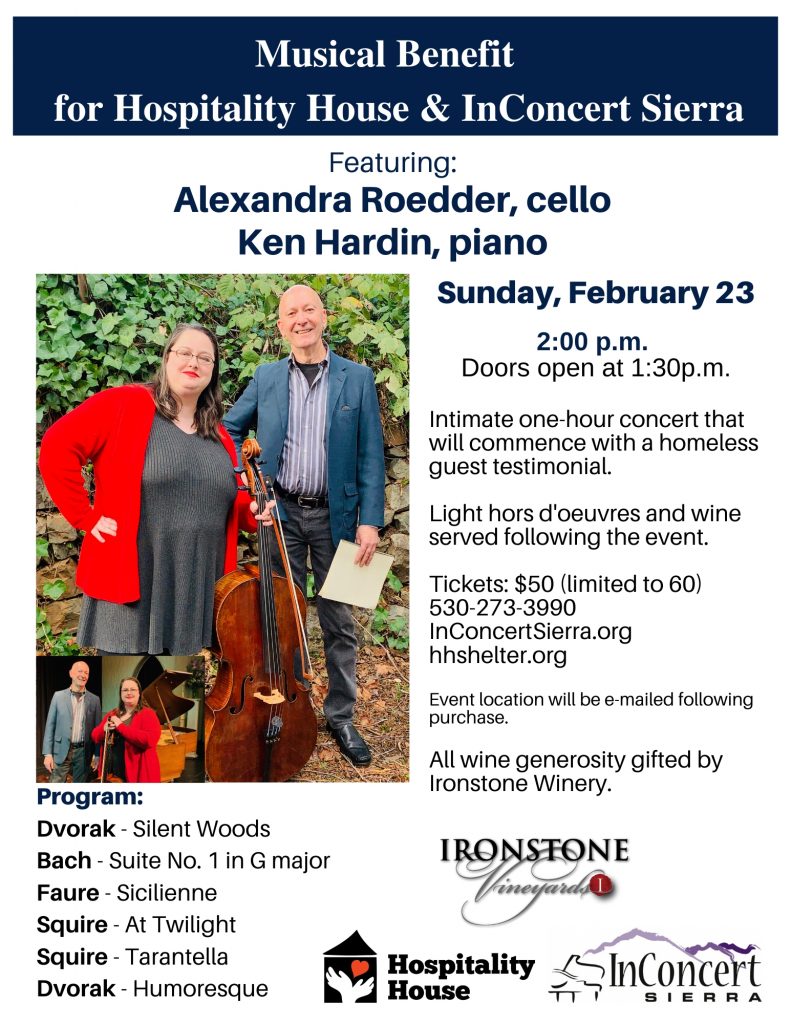 Save the date for Sunday, Feb. 23! We are partnering with InConcert Sierra to offer a special benefit concert. The artists are donating their time to make this concert possible and all proceeds will be jointly split to support the arts and to help people overcome homelessness. As part of the concert, attendees will hear from one individual on his journey to return to housing, and following the concert, attendees will enjoy wine (donated by Ironstone Vineyards) and light appetizers, dutifully prepared by Chef Chris and homeless students enrolled in our culinary cooking program.
Info on the artists:
Ken Hardin, pianist, conductor moved to Nevada County in 1984, Ken is the artistic director of InConcert Sierra and has enjoyed a career as a pianist, conductor, vocal coach, and more! Ken has performed with many of the local musicians and most of the performance organizations in our area. His career as a pianist and conductor has spanned the genres of jazz, Broadway, and classical with strong, diverse experience and education in conducting, performing and teaching. Additionally, Ken recently retired as the founding Music Director of the Sierra Master Chorale.
Alexandra Roedder, cello, studied modern and baroque cello. She has a degree from the Royal Conservatory of The Hague in Historical Performance, M.M. from UCLA in cello performance and PhD in musicology with interests in film music and globalization. She and her husband run the fledgling Sierra Nevada Historical Performance bringing "real old-timey music" back into homes and small local performance spaces. Alexandra serves as principal cellist of the Auburn and Folsom Symphonies, and performs in with the InConcert Sierra and Sierra Master Chorale orchestras.
This event is limited to 60 people max.
BUY TICKETS NOW