March 14, 2015
Folk Concert will Benefit Hospitality House on Sunday March 29th.
Join us for an informal afternoon of folk music on Sunday, March 29 with popular local musicians Juliet Gobert, Homer Wills, Nory Fussell, and Bodie Wagner. George Mann, a singing activist from New York, will also give us a set. The concert will begin at 4:00 pm at Sierra Mountains Coffee Roasters/Tomes, 671 Maltman Dr. in the Brunswick Basin. All friends of Utah Phillips, these generous performers offer their talents as a benefit for the shelter.
Juliet Gobert is an accomplished singer/songwriter who for the last several years has been performing as an acoustic duo with veteran harmonica player Homer Wills (Jerry Jeff Walker, Willie Nelson, Guy Clark, Townes Van Zandt, The Mavericks). Last fall they released "Peach Pies," a CD of her original songs.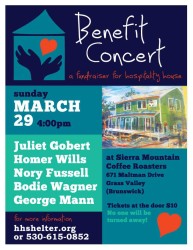 Bodie Wagner has been a touring folk singer for over 30 years, performing in concert and at major folk festivals throughout the US and Canada. A fine yodeler, he plays a guitar and harmonica. His influences include country, folk, Cajun, and cartoon.
Nory Fussell is celebrating the recent release of his first-ever compilation of original songs, "Back Home." Stellar Nevada County musicians joined Nory at Bruce Wheelock's Flying Whale Studio to create this unique and lively selection of diverse songs. His music, often humorous, uplifts the spirit, and as a songwriter he is also a "reporter" of the social condition.
George Mann sings songs from the last century of labor and social activism, along with his own songs, which are powerful, funny takes on the state
 of the nation. His concerts are part sing-along, part history lesson, and he can make you shout for joy, send chills down your spine or bring tears to your eyes in the same set. While maintaining a touring and performance schedule of some 200 gigs each year, George has recently focused on the nation's veterans and the effects of two long wars on soldiers and their families. His new CD "Portraits" has just been released.
Tickets cost $10 and will be available at the door. (No one will be turned away for lack of funds.)