May 7, 2013
Dear Hospitality House Friends,
Things are moving along at a pretty fast pace for all of us at Hospitality House so we have lots of exciting things to share.
We recently said farewell to our Development Director, Justin Sternberg.  Though he was only with us a short time, it was an incredibly busy few months and we deeply appreciate his contributions to our fundraising efforts.  We wish him well in his new endeavors.
We are delighted to announce that on May 13, 2013, Yolanda Cookson will be joining us as our new Development Director.  Yolanda comes to Hospitality House from her position as the Development Director of The Friendship Club, a highly effective nonprofit empowering at risk girls.  Yolanda also recently ended a four year term serving on the Grass Valley City Council.
Yolanda brings with her a passion and willingness to educate herself and acquire a solid understanding of the issues surrounding homelessness.   Yolanda has been a long time supporter of Hospitality House, has volunteered at our center, and has even spent a night in a box in support of our "Think Outside the Box" fundraising event.
The first night I met Yolanda, she tagged along with me to visit a homeless camp during a year Hospitality House was still closing for the summer.  It had rained a few days before and it was dark outside.  Not a good combination as we had to navigate some pretty tricky terrain.  When we were leaving, we stood in front of the car headlights and I noticed Yolanda's blue slacks and black dress shoes were covered with mud.  She took it all in stride, while I did the unthinkable and almost doubled over laughing at the sight of her.  She won my respect and admiration that night and I could not be happier she is joining our team.
In her new role as Development Director, Yolanda will be responsible for leading and expanding Hospitality House's fundraising efforts, including our building campaign.  Yolanda says she's honored to work at Hospitality House and looks forward to helping support the mission by creating lasting relationships and opportunities.
The Renovation in Progress
We are happy to announce we've raised $80,000 in the last six weeks for the Utah's Place renovation project.  We're making progress and chipping away at our goal of $433,000.  All of us at Hospitality House are so deeply touched by the level of support, faith, and trust our community has shown for this project.   We are awed by the genuine compassion and fierce determination within our community to see Utah's Place come to fruition.
As we strive to keep our priorities and focus on the service we provide, the support we receive from this amazing community for both our program and our building project is incredibly helpful and encouraging.
We still need to raise $353,000, and we firmly believe this can be raised locally and within a relatively short period of time as the need for this community shelter is greater than ever before.  If you are interested in leaving a lasting legacy, for yourself or a loved one, by purchasing a naming opportunity at Utah's Place, please contact Cindy Maple, Joanna Robinson, or Yolanda Cookson (after May 13) at (530) 271-7144 or you can donate through our website at http://hhshelter.org/donate/.   We would be happy to schedule a hardhat tour of Utah's Place for anyone interested in purchasing a naming opportunity.
The long anticipated renovation work has begun.  Big thanks to our contractor, Bill Litchfield, and architect, Robert Wallis (both pictured below with building permit) for their expertise and support of our mission.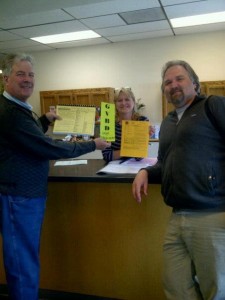 Almost all of the demolition work and clean-up has been completed.  We found  some unexpected mold and damage in the siding this week, but our contractor is on top of things and moving us forward.
A group of our food providers met with Bill and our kitchen designer, Lauren Anderson (who is donating his time) last week. This enthusiastic and knowledgeable group was not short on suggestions for how to lay out the kitchen and those ideas are being incorporated into the final kitchen design.   We appreciate their excitement and commitment to help us continue on with the same level of food service currently provided.
We'd like to take a moment (or 10,000 of them) to express deep appreciation for the many Nevada County Contractors and Suppliers working on this project.  Utah's Place requires an extensive remodel to meet fire/health/ADA requirements and each of our contractors is donating some portion of their work and/or supplies.  We encourage you to support these businesses as they give so very much to our community.
Thank you, thank you to the Nevada County Contractors' Assoc, Bill Litchfield Construction, Architect Robert Wallis, Sierra Foothills Construction Company (Keoni Allen), Grass Valley Electric, Rexel Electrical Supply, Beam "Easy Living" Center, Caseywood, Brewer Heating and Air, Imel Flooring, Nevada County Plumbing, Hansen Bros, Junk King, Deschaine Enterprise, Nelson Engineering, Lauren Anderson Design, All Phase Heating and Air Conditioning, Foothill Painting, The Cabinet Company, Moule Paint and Glass, NID, and Waste Management.
We'd also like to thank Nevada County Transit Services (donating bus shelter), Nevada County Environmental Health Department, and the City of Grass Valley.
Stay tuned for more renovation updates and news of our upcoming walkathon benefit for Utah's Place, "Walk a mile in their shoes".
With gratitude,
Cindy Maple